Resilience Support for First Responders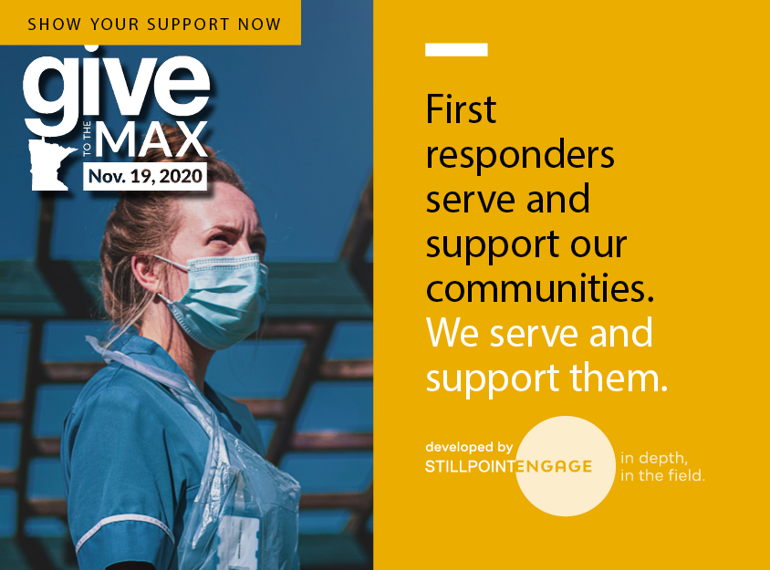 First responders and humanitarian aid workers are on the frontlines of helping people during crises.
$3,930
raised by 25 people
$5,000 goal
Help Us Show Our Shared Gratitude By Providing A Thanksgiving Dinner To Our Local Paramedics – 
We Can't Do This Without Your Support
With the continuing challenges of COVID-19 taking a toll on our frontline responders, Stillpoint Engage is partnering with local restaurateurs and merchants this Thanksgiving to honor the EMS paramedics and dispatchers working that day by providing a Thanksgiving dinner.
With your generous support, we will provide Thanksgiving dinner for approximately 100 EMS paramedics and dispatchers who will be serving our community's most vulnerable members this Thanksgiving.
The cost of one dinner is $20.00. Please join us by donating what you can. 
$20.00             $40.00             $60.00             $80.00             $100.00
____________________________________________________________________________________________________
First responders are on the frontlines of helping people during crises. Whether during a health emergency, pandemic, natural disaster or civil unrest, they risk their physical and emotional well-being to serve others. Research shows:
50% of first responders report experiencing mental health issues, including anxiety, depression, and PTSD
37% have experience suicide ideation
Now, Stillpoint Engage is providing care for the mental and emotional health of first responders of one of our local emergency medical services (EMS) units.  
Last month, we launched ResiliencEngage, a project with one of our largest EMS systems to provide life-affirming resilience support for their first responders.  So far, we've delivered in-person resilience trainings to all paramedics, dispatchers, and leadership personnel within the organization. 
We have also created a range of complementary resources and supports for the EMS team. They have access to an online resource library, ongoing resilience trainings, and both individual resilience sessions and group critical incident reviews led by licensed clinicians.  We have already heard from a number of EMS personnel that these supports are helpful in sustaining their resilience and well-being.
You can help support first responders too. 
Your gift for Give to the Max Day will help these frontline workers sustain resilience in the face of health and community crises. Your gift any time between now and 11:59 pm Thursday, November 19  will support first responders during the coming months. 
---
sustaining First Responders' resiliency
First responders are on the frontlines of helping people during crises. Whether during conflict, a pandemic, natural disaster or mass shooting, these individuals risk their physical and emotional well-being to serve others.
With COVID-19 and civil unrest overwhelming our local communities and communities worldwide, first responders face exhausting schedules, traumatic calls and fears for the lives of themselves and their families on top of an already demanding role. Stillpoint Engage is offering resources to support emergency medical services and first responders.
With increased psychological resilience comes increased stamina. Resilient people have an increased ability to stay present with others, make difficult decisions and bounce back from adversity. When people are resilient, they can persist in a long-term calling and still stay grounded in a high stress, high risk environment.
When people are resilient and mentally strong, they can do their jobs more effectively and maintain healthy relationships. This reduces burn-out, as well as personal challenges such as marital or parenting discord and substance misuse.
ResiliencEngage is able to support first responders and humanitarian aid workers so they remain resilient and healthy.