Resources for Nonprofits and Schools
RaiseMN fundraising coaching
Visit RaiseMN.org to learn more about how you can work with a RaiseMN coach one-on-one.
---
The GiveMN Guide to Mastering Fundraising Campaigns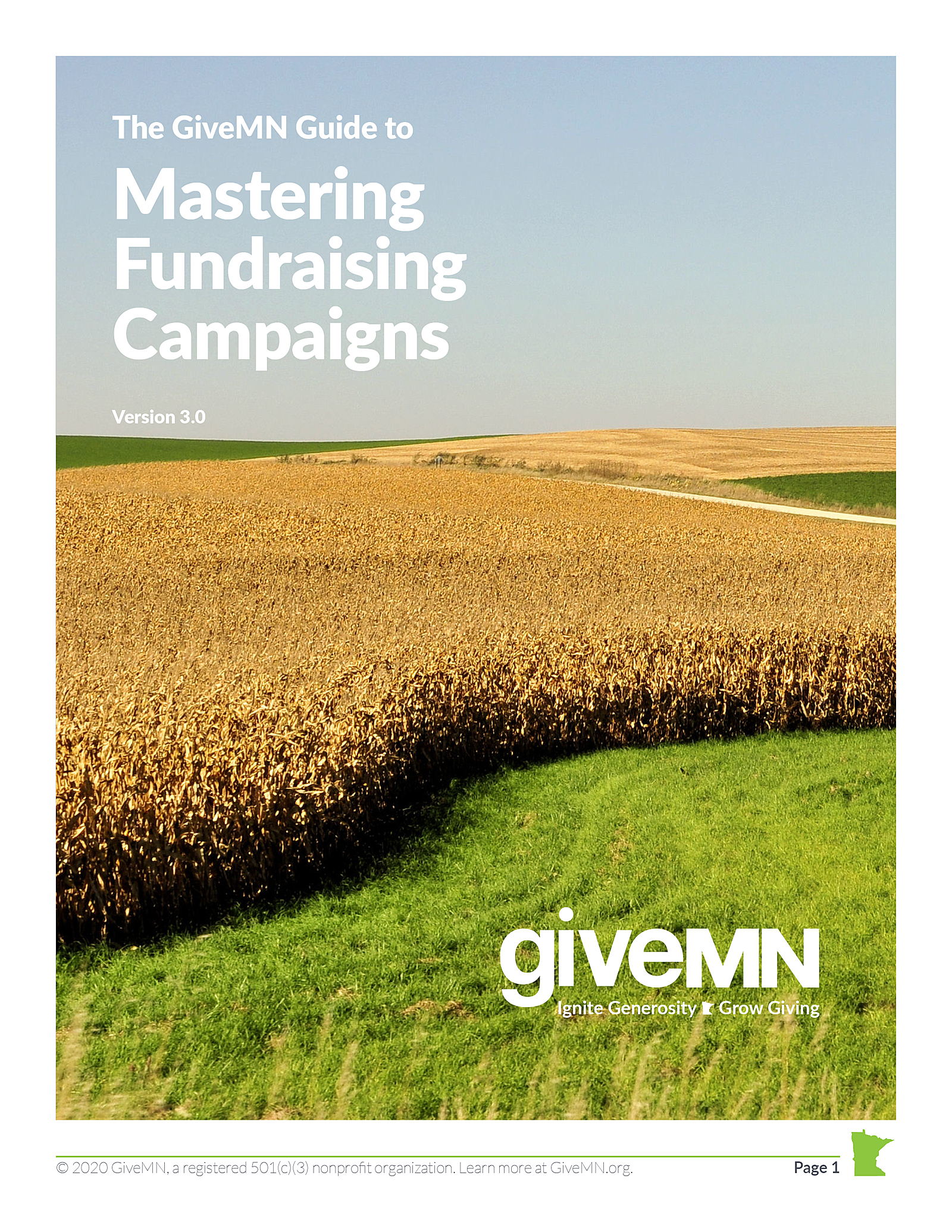 Does planning a fundraising campaign from scratch feel overwhelming? Or do you need to take an existing successful campaign and give it a nice refresh? The GiveMN Guide to Mastering Fundraising Campaigns workbook begins with finding your organization's unique perspective, continuing through engaging board members in your campaign and planning your communication, and ends by creating a stewardship plan to help bring donors into deeper levels of engagement with your organization.
---
Need Help?
GiveMN and our technology partner Mightycause are happy to help with your GiveMN.org experience!
Please email help@givemn.org any time you need support or have a question. Whether you're a donor with questions about donations or help with your user account, or an organization with technical questions about your GiveMN.org account, reporting or disbursements, our Help Team will be happy to assist!
If you would like to reach members of our RaiseMN team with questions about your fundraising strategy or for coaching support, please email raisemn@givemn.org.
---
Make the Most of GiveMN
GiveMN links passionate people with organizations that are working to make better places for more people. Our online giving website, GiveMN.org, enables your supporters to give any time and any place.
To help you get started, here are a few ways to make the most of GiveMN:
Stay fresh
It's hard to get excited about stale content. Have you done the smell test on yours lately? Your Organization page is a first impression for many donors. Look your best.
Say, cheese! Swap out your photos with new ones every so often.
Tell a great story. Go beyond the boilerplate language and liven things up. Never forget that you want people to push that donate button. Does your story inspire them to do that?
Check the mirror. Give your page a once-over. Check for spelling errors and typos. Make sure your logo and photos display correctly. Remove any images that don't look their best in the space.
Find creativity in simple things
You don't have to be an artist or make your executive director walk around town in a cape to use GiveMN creatively. Sometimes it's as simple as showing some personality. Break out of the brochure bubble and give your page some flare. Speak directly to your audience. Let them know how much fun you are and how much you care.
And remember that the benefit of being online is that you can always edit and refresh.
Be your awesome self
You're already awesome because of the work you do. So go against your Midwestern urge to be modest and brag a bit. Let people know what you've already changed in the world – and how their support will help you do even more.
Putting some extra thought behind your donation form is one way to connect givers to the difference they can make with their donations.
And that bragging thing comes in handy when you want friends to shout your awesomeness, too.
Test, fine-tune and test again
Think of GiveMN as your fundraising lab. With so much activity and so many tools, you have endless opportunities to try different things.
Borrow ideas you see on GiveMN.org. It's a community, after all. Use it to make yourself and others better fundraisers.
Be bold. As with any experiment, not everything will be a hit, but the more you try, the more likely you'll produce a success.