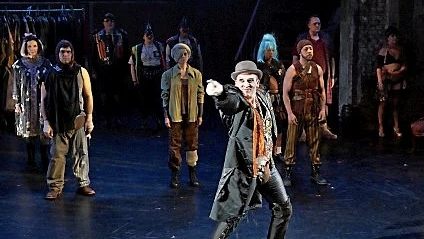 Frank Theatre: A Minnesota Gem Needing Your Support
$125
raised by 3 people
$500 goal
Friends! Please support FRANK THEATRE for GIVE TO THE MAX!
I first stumbled into Frank Theatre when I had the amazing opportunity to stage manage Kevin Kling's THE EDUCATION OF WALTER KAUFMANN back in 1997. I've been in love with what Frank does ever since - and been able to be a part of almost 20 shows as well as sit on the board of directors for many years, chairing the board for a number of those years as well. The unique approach to creating theatre that Wendy Knox and Frank bring to Minnesota has resulted in exciting and challenging productions and conversations that have had an impact on many people and the crucial topics of the time.
That said, we need some help. We aren't producing plays right now, BUT we are producing monthly discussions called "Frankly Speaking: What's Up With That?" These are conversations that drive Frank's work - issues that the arts community are currently wrestling with. Keeping the lights on for a small, rough and tough theater company during a pandemic is no easy task. Is Frank up to the challenge? ... YES!!!
Frank is now in its 33rd year. 33 years of producing smart, challenging theatre that includes world premieres, musicals, area premieres, a lot of Bertolt Brecht, some stunning performances staged in the least likely venues, and plenty of food for thought. We miss you and we CAN'T wait to get back in the theatre with you.
Any help you can offer to help us get to the strongest possible position to do so will be greatly appreciated!
This fundraiser supports
Frank Theatre
Organized By Spencer Putney