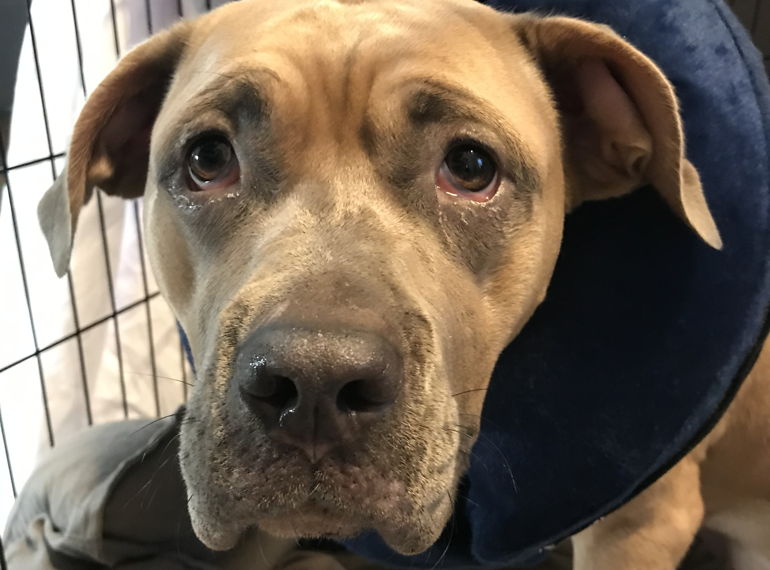 $1,350
raised by 15 people
$1,000 goal
Meet Jada: an adorable, loving, playful two year-old mastiff mix.
Jada came into Pet Haven's care with a limp, and wasn't able to put all of her weight on her right leg.
When she first went to the vet for x-rays, we had no idea what was actually in store for the rescue or for Jada. Along the way, Jada went to three different vets. Because of what was thought to be just an ACL tear was actually much worse and needed to be seen by the U of M.
After careful examination, it was determined that her bones hadn't grown together appropriately, and she had a grade IV (the worst!) luxation (or dislocation) of her right patella (kneecap). She was walking around with her kneecap on the wrong side of her leg at all times! Due to it being out of place for so long, one of the knee ligaments (her ACL) that was holding her unstable knee together had torn as well. Finally, after further Xrays it turned out she had a previous fracture of her left femur from trauma.
The options we had for Jada's knee were to straighten out the bone and repair the ligament, or amputate her right leg, leaving her with only the already weakened left leg from previous trauma. Hoping that Jada could return to her favorite activities and find a home without the need for extra care and assistive devices, Pet Haven came through with their promise to Jada to help her get back to a full and healthy life.
She underwent surgery shortly after her diagnosis. She had her femur reshaped to fix the birth deformity, and her tibia (shin bone) was reshaped and plated with metal to take over the job of the torn ligament.
Thanks to the U of M surgery team, Jada will be able to return to her favorite things: running, playing fetch, and playing with her people.
Because her surgery was intricate and intense, the vet bills were thousands of dollars.
Without this surgery, she would have lived her life suffering with a painful leg.
Please consider donating to Jada's vet bills. Pet Haven thanks you, and of course, Jada does too.