Help 3,000 Minnesotans Take Action for Animals
Your gift will help 3,000 Minnesotans take action for animals in the coming year.
$121,267
raised by 95 people
$120,000 goal
Here's the details on our 2023 Campaign (and my story)
Update posted 5 months ago
CAA, I came to my first event, the 2018 CAA/ARC July 4th potluck, when I was 25 years old.
Today I'm on CAA's board of directors, helping to expand the organization's impact for animals with the help of donors like you. If you've already given this year-end, thank you!
If you haven't given yet, please join us in making a matched gift to help 3,000 Minnesotans take action for animals in the coming year!
My experience is a perfect example of how CAA goes about making change. We raise people's awareness, build community, nurture people's advocacy, and make change for animals.
Right at that first community building event, when Laura saw that my sister and I were eager to take action, she invited us to poster for Twin Cities Veg Fest. We all went out and did so that afternoon! Here's what I looked like back then.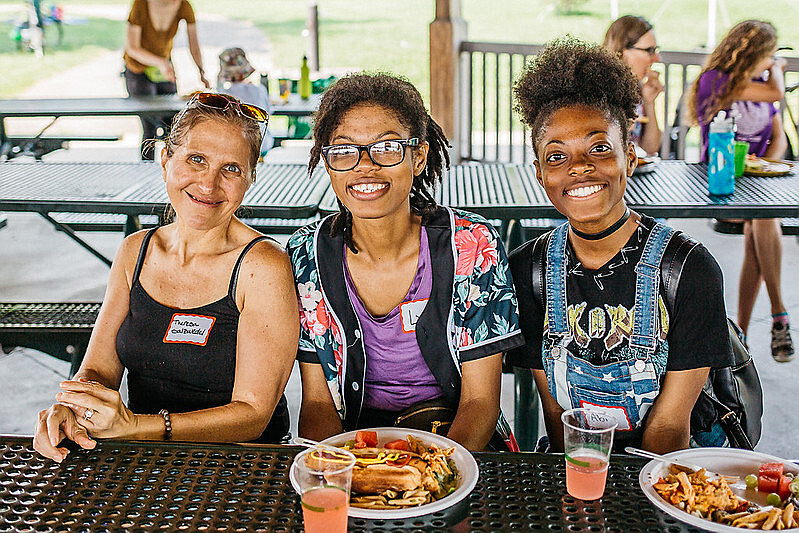 I'm in the center with my sister on the right.
The next year I helped organize the festival, and joined CAA staff and volunteers in going to the Animal Rights Conference, where I got to learn from and share ideas with Veg Fest organizers from across the country and the world. I brought that knowledge back to participate again in organizing the 2022 festival.
In other words, CAA supported me in moving from community building to advocacy. And then my work with Twin Cities Veg Fest helped raise the awareness of others, pulling them into the cycle, and creating change for animals and our community.
Your matched gift will help engage at least 3,000 people in taking action for animals in 2023, and enable us to invite them to take further action.
Here's what we've found: almost everyone opposes factory farming. By launching a CAFO moratorium petition, we can get thousands of Minnesotans we wouldn't otherwise reach to both learn more about factory farming's negative impacts, and take action to halt the construction of more.
From there, we'll invite them to community building events, and show them how good vegan food can be. Step by step, we can transform our state into one where people take action on their care for animals through both policy and diet change.
This is a big task. We need you with us. Our stretch goal is to raise an additional $60,000 to be able to take the campaign to social media where we can engage thousands more people from across the state.
You can support this project by making a matched gift at exploreveg.org/donate, by making a gift of stock, or by replying to this email and letting us know you'd like to set up a recurring monthly gift.
Thanks for all you do to make our work for animals possible!
With the animals,
Lydia Green
Board Member
Compassionate Action for Animals

I love how CAA welcomes everyone, no matter what their diet, to join in making a difference for animals.
When I first got involved I felt that ditching dairy was the right thing to do. But, as a long-time vegetarian, I was not sure how to give up the yogurt and cheese.
Then I went to Twin Cities Veg Fest. I exp
lored so many delicious plant-based foods, and I talked to a registered dietician who explained how to get a fully-balanced diet without animal products.
Now I'm fully vegan and I'm on the board of CAA.
Together, our gifts make CAA's programs like Twin Cities Veg Fest possible. Please join me in making a gift--which will be DOUBLED--by December 31. Here's what we accomplish:
Helping people take action on their care for animals: This year, 50% of Twin Cities Veg Fest attendees were non-vegan like I was, and over 30% intended to reduce their consumption of animal products as a result of attending the festival.


Adding plant-based meals to school lunch menus: CAA now has a staff person in touch with the food service directors of more than 15 metro area school districts, helping them to add plant-based food to their cafeteria menus.


Showing people how good vegan food can be. Participation in the Twin Cities Vegan Chef Challenge more than doubled this year, with diners casting over 1,000 votes, and making comments like, "It's so good! OMG I'm not even vegan and I'd eat this all the time if I could!" about Muddy Tiger's Vada Pav.
CAA stands at a critical crossroads. To keep expanding our impact for animals, we also need to expand our staffing. Your support will help us hire a full-time program manager and get 3,000 Minnesotans to take action on animal issues by signing an anti-CAFO (factory farming) petition in 2023!
Foundations are making increasing investments in our effective programs, as you can see from how close we already are to our goal. Now we need support from donors like you and me to get us the rest of the way there.
Please join me in making a one-time gift or starting a monthly gift like mine today!
Thanks so much for being part of the CAA community! Together, and with new chapters in Saint Cloud and Duluth, we make a difference for animals and people in the Twin Cities and beyond.
Sincerely,
Julie Reiter
CAA Board Member
P.S. You can also make a gift of stock here or mail your gift to Compassionate Action for Animals, 2100 1st Avenue South, Suite 200, Minneapolis, MN 55404.