Community Pathways: Let's Smile Dental Space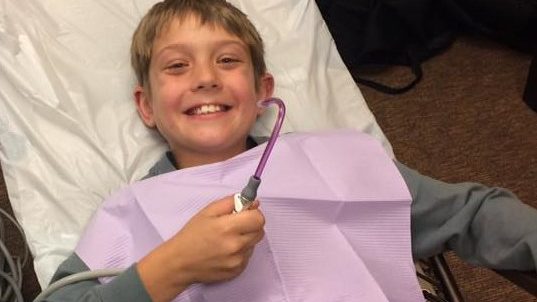 Help us furnish the new dental Smile Space in the Owatonna Community Pathways building!
$27,520
raised by 68 people
$120,000 goal
We believe oral health impacts overall health.
We believe establishing healthy behaviors during childhood is easier and more effective than trying to change unhealthy behaviors during adulthood.
We want every child to have access to quality dental health services.
We make that possible by providing clinical preventive dental health care to low-income children and teens covered by state/county insurance or no insurance.
Do you want to make an impact on their lives with us?  
How many families are we currently serving?
In 2021, Let's Smile provided 623 dental patient encounters (screening, cleanings, fluoride treatments, & oral hygiene instructions) to low-income children and adolescents throughout SE MN.  144 patient encounters were in our Community Pathways location.  The remaining 479 encounters were in our school-based dental clinics.  
71% of the low-income children were covered with state/country insurance such as MA, SCHA, UCare, & BluePlus.  29% of the low-income children had no dental insurance.   All of our dental services are at no cost to families.   We use grant and donation funding to cover remaining balances.
Let's Smile is going to be part of the Community Pathways building, what will this transition look like? How will this make a difference?
Let's Smile, Inc. currently sets up a weekly dental clinic in the Community Pathways building on Wednesdays.  We are using their 100 square foot kitchenette to provide the dental health care services to low-income children.   At the end of day, we tear down our equipment and supplies so that the staff and volunteers get back their break room.
The expanded Community Pathways building will give Let's Smile, Inc. more than 400 square feet.  This is enough space for two separate rooms for dental hygiene and dental therapy as well as the sterilization station and an office area. These will be permanent rooms that can be used as often as necessary to meet the needs of the children we serve.
Now that Let's Smile has a permanent space what will it take to make it a SMILE SPACE?
Let's Smile is in need to furnish our new Smile Space with specialized dental equipment and supplies.  We are focusing on raising $120,000 to cover the costs of essential basic items used in every day standard procedures.
Cabinetry in the dental hygiene and dental therapy rooms:  This is where we will store all the sterile supplies and small dental devices we need to keep our dental clinic functional.  
Lighting in the hygiene and therapy rooms need bright, focused dental lights to be able to see inside a patient's mouth.
X-Ray equipment and the technology to store images and share with patients and referring dental offices.
Sterilization equipment is essential for preventing cross-contamination between patients.  We also need to stock up on high-grade disinfectants, general cleaning supplies, and — as always — soap.
Personal Protective Equipment (PPE) to keep our staff and patients safe from injury or the spread of infection or illness.
Handpieces are used by hygienists, dental therapists, and dentists and in both routine and specialized dental procedures.
Utility equipment will keep our dental practice running smoothly, providing air pressure, sterilizing steam, and other helpful functions.
Computers/tablets for storing digital files, displaying digital imagery, entering patient data, downloading forms, and communicating.
Operating costs include overhead expenses such as staff, rent, insurance, and bookkeeping.
Decorating to make our workplace warm and welcoming for patients and employees.
What is our hope for Let's Smiles future?
We hope to continue to change lives by improving access to oral health care to low-come families, increasing oral health literacy, and raising awareness about the importance of oral health's impact on overall health, especially to those most vulnerable.
How can someone seeking our services connect with us?
They may call 507-363-3023 or email letssmile@outlook.com to set up a dental appointment in the Community Pathways building.
How would someone contribute to the success of Let's Smile's Smile Space?
Please help us advocate for oral health by spreading the news we are accepting new patients with state/county dental insurance or no dental insurance at no cost to families in our Let's Smile's Smile Space.
Please donate towards our goal of $120,000 towards our new Smile Space so we can fill up the space with lots of smiling children getting the oral health care services they deserve.