CORE-onavirus Doula Support Fund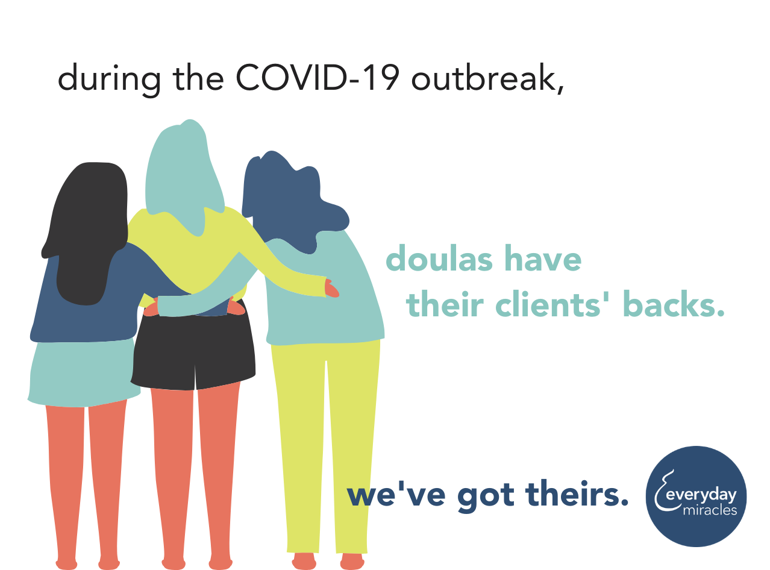 A fund to support the payment of doulas serving Medicaid clients during the coronavirus outbreak
$935
raised by 6 people
$20,000 goal
Your gift helps ensure that our clients with Medicaid health insurance plans—what we at Everyday Miracles call our "CORE" clients—don't face birth alone during the coronavirus crisis.
Over the course of just a few short months we have witnessed communities around the world, from neighborhoods to nations, brace the staggering impact of COVID-19, the deadly disease caused by the novel coronavirus. This, of course, includes hospitals and healthcare workers, who have been forced to make the agonizing decision to limit patients' contact with loved ones in order to minimize the spread of COVID-19 and ensure what little personal protective equipment (PPE) they have available is reserved for essential medical care providers. In turn, many hospitals have opted to limit the number of support people (in some cases, not even allowing one) for those giving birth, including doulas. As proud colleagues of the incredible midwives, physicians, nurses and hospital administrators who continue to serve expecting families on the frontlines, this is a decision we understand and honor—we know this disease has had devastating consequences for birthers, babies, and those that care for them. Nevertheless, these policies have left many birthing people without the essential support they need and that we know empirically leads to better outcomes for mother and baby. In response, over the past few months our staff and doulas have been focused on finding creative solutions to this problem so that no person, regardless of identity or location, faces birth alone... even when a pandemic turns the world upside down.
Thanks to the innovation of video calling platforms, we are grateful that most of our doulas at Everyday Miracles have been able to continue providing support to their clients virtually. But while we have worked hard to ensure that the cost of virtual doula support would be covered by insurance companies for our CORE Clients—individuals on Medicaid plans—in the same way that in-person support is covered, some companies have still refused to cover the cost of virtual support during labor and birth—the most crucial aspect of a doula's role in their client's pregnancy and their main source of revenue from working with clients.
Through this #GiveAtHomeMN campaign, we are hoping to raise $20,000 that will be used solely for reimbursing doulas for births attended virtually during the coronavirus pandemic.
Your donation will directly, and positively, impact the lives of our clients welcoming a new baby into this messy world and the doulas that support them.