Give to the Max for One Yoga
A nonprofit fundraiser supporting
One Yoga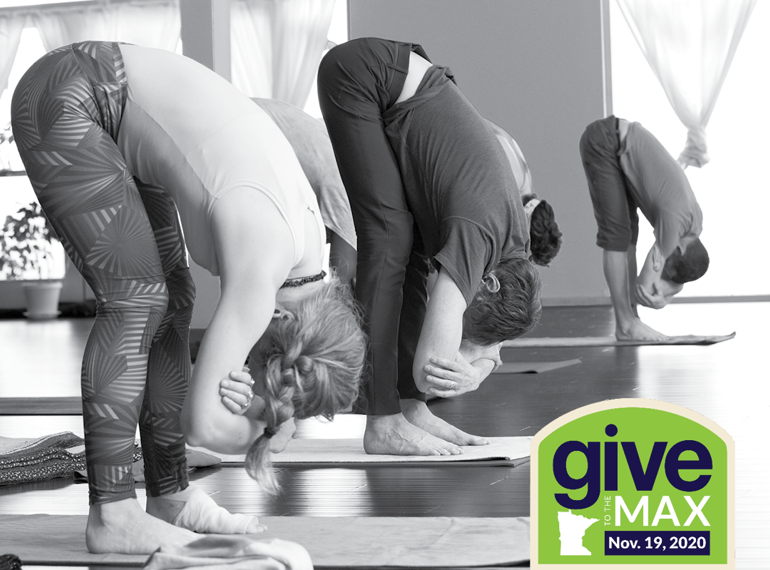 For Give to the Max Day this year, One Yoga is fundraising for our future new studio!
$3,490
raised by 39 people
$5,000 goal
Support our future new studio on this year's Give to the Max Day.
Yoga is an important tool for supporting mental and physical health, especially in these times. It helps reduce anxiety and keeps us present, calm, and connected in the face of uncertainty.
During this time of pandemic, One Yoga is fulfilling its mission of improving health equity for all by offering a full schedule of live streamed classes and workshops, continuing outreach partnerships with Whittier Elementary School and Project for Pride in Living, and providing reduced rates for individuals from low-income households. Additionally, we will be offering donation-based Election Week Yoga classes. 
Our students have said that our live streamed offerings are especially important now as we navigate mental and physical health during the ongoing COVID-19 pandemic:
"I feel the deep attention to supporting this yoga community and this is a source of strength and peace even as I am feeling anger and sadness and loss."

"It has made my days better, more energetic and more productive in thought and actions."
In August, we announced that we will not be renewing the lease on our current studio space on 26th Street, a move that aligns with the direction of the organization more broadly. In a 2019 strategic planning process, we developed a 5-year plan that includes a call to explore moving to a new location where we can better serve our mission. The plan envisions a studio space located in a more affordable South Minneapolis neighborhood with more abundant community partnerships and easy access for all. Leaving our Uptown location was the first step in that process.
So, for Give to the Max Day this year, One Yoga has a goal of raising $5,000 to put toward our future new studio. We are asking our community of donors to contribute at levels associated with items we will need for a new studio, such as:
$10 - purchases one new block

$25 - purchases one new bolster

$50 - purchases a Square chip reader for contactless in-studio registration

$100 - contributes to a new lobby couch

$250 - purchases paint for one studio
During this time of change and transformation for One Yoga, we are centering inward toward our community, and we value the previous and ongoing support you provide our nonprofit. We  would be incredibly grateful for your tax-deductible donation to our organization and for helping to improve health equity in our community. Thank you for your support.