Fill The Raffle Tent at Our 2024 Memorial Walk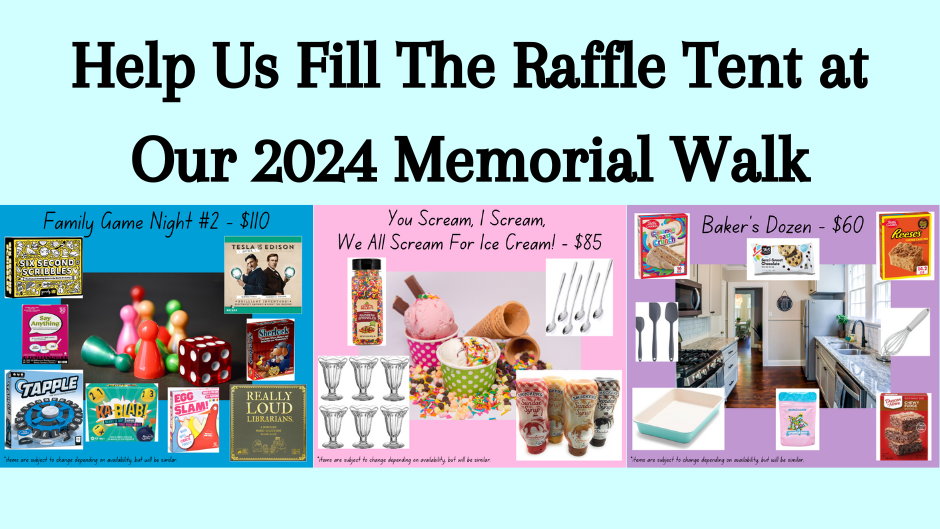 We are asking for donations to cover the cost of Raffle Baskets for our 2024 Memorial Walk.
$2,940
raised by 30 people
$7,575 goal
If you want to donate money to sponsor a basket please go to our Facebook page https://www.facebook.com/HalosofTheStCroixValley and follow the instructions on the basket post you are looking at.
If you would just like to donate money towards helping families with immediate funeral support please click the "Donate" button above.
Thank you everyone for helping us help future child loss families!
***PLEASE NOTE THAT YOU ARE NOT ACTUALLY BUYING A BASKET, YOU ARE DONATING THE AMOUNT IT WILL COST US TO PURCHASE THE BASKET ON YOUR BEHALF TO PUT INTO OUR RAFFLE TENT NEXT YEAR.***
What is Halos?
Halos of the St. Croix Valley is a recognized 501(c)(3) non-profit foundation in the State of Wisconsin that provides financial, remembrance and aftercare support FREE of charge to families throughout Minnesota and Wisconsin, who are struggling with the loss of a child from miscarriage - 20 years of age.
What do we do for families?
Families are offered many immediate support services as well as assistance to help guide them through the many time sensative decisions they are facing. We are here to help provide Remembrance Support; memorial photography, hand a foot molds (0-6 years of age), burial gowns for infants, personalized memorial cards and an enlarged framed photo of their child to be placed at the service near their casket or urn. We are also able to advocate and direct families to a funeral home in their area, whom we partner with, to help cover most if not all costs for them. We are able to provide immedate Financial Support; casket, urn, burial fees, cremation costs, funeral home fees, casket spray/urn arrangement from the parents for their child's service.
Through our Early Loss project, we offer miscarriage kits for women who have been informed they are miscarrying, to allow them to have cath their baby at home without the worry and place them in a vessel for holding and photos even. We offer an option for group burial or cremation for even the tiniest Angels. 
As part of our Aftercare Support Services, we provide families with grief support through our grief support companion program as well as monthly grief talks, and a 12 month subscription to Grief Coach which offers personalized text messages . We also offer families virtual support sessions with a licensed therapist, assist with their stay at Faith's Lodge, offer a 10% headstone discount. We also help honor their child by sending a card and posting on our Facebook page, with a parent's permission. 
We stand by families to support them with emotional healing and a connection to other parents trying to find hope and healing. Families are referred to Halos directly from hospitals, law enforcement, funeral directors, medical examiners or friends and family and we are then able to connect with them as soon as complete a request for support services.
Who runs Halos?
We are a small operational team of two that works daily to run Halos. Kelli is the Founder and Executive Director and Jamie is the Programming Director. We both work anytime of day or night to help families! We also have the assistance of many many wonderful volunteers that give so much of their time to help us provide this support to so many newly bereaved families.
Where does our funding come from?
We are funded solely on support from our community through donations. We have helped hundreds of families since 2011, and will continue to carry them in our hearts forever. We are a family and we are truly grateful to be able to be here for each and every parent that turns to us.