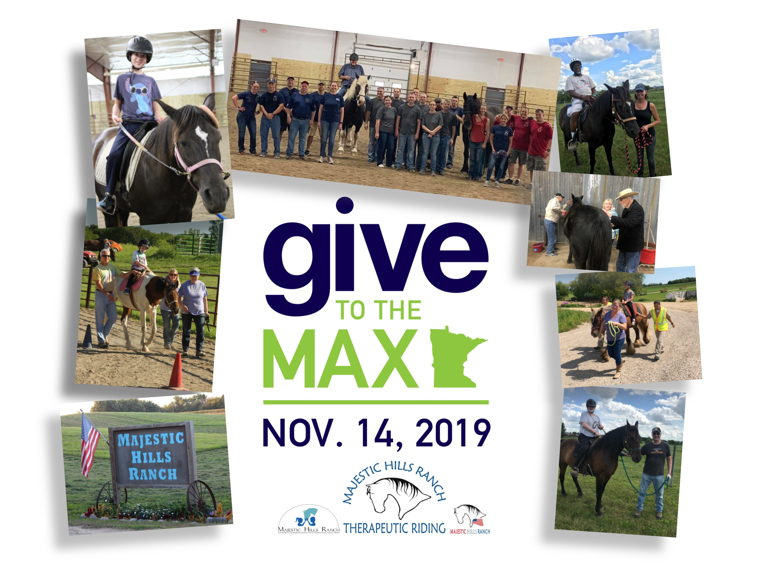 MHR offers therapeutic riding to children & adults with special needs and to military veterans.
$2,735
raised by 23 people
$8,000 goal
Horses help heal. They provide an ear to listen to everyday problems and a shoulder to lean on. Riders come to the ranch, ready to work with their four legged friend to have a new adventure.
Help us care for our equine associates over the winter months!
Our "Children's Program" offers riding lessons to children and young adults with special needs, so they may learn to ride horses confidently and safely, to the best of their ability.
Majestic Hills Ranch (MHR) is a place where young riders touch a horse's nose for the first time. Where they can pet a goat or try to touch a chicken. Where they get to walk right up to a "big" horse and get on to ride - showing the world they are brave and adventurous. They leave behind everyday troubles and get the joy of riding on a horse, in a non-judgmental environment where community volunteers help to make each ride safe and enjoyable.
Our program began in 1997 with a handful of children and we now serve over 125 riders per season. As we just ended our 21st year of service, we hope to expand the number of program horses and the activities that we offer in the coming months. We are located on a beautiful 106 acre ranch where the horses have plenty of room to run, barn cats and friendly dogs roam about looking for love, and city folks can see how hay gets made.
In 2010, with the addition of the second outdoor arena, MHR established our "Heroes on Horseback" program. We made the commitment to bring the same benefits of equine assisted activities and therapies to our Veterans who have sacrificed so much to keep us safe as we offered to our children and young adults with special needs.
Veterans may return from combat with negative self-esteem and an immeasurable amount of guilt that they take back with them to their "ordinary" lives. Unable to deal with the stress they have been exposed to, often they have nowhere to turn and talking about things just seem too unbearable. While traditional therapy includes medication and talk-therapy, complementary treatments may now include equine assisted activities, including therapeutic riding.
MHR provides children and young adults with disabilities and special needs, and injured military personnel, active duty and veterans in rehabilitation with physical and emotional challenges, the opportunity to receive equine assisted activities.
Equine therapeutic riding is fundamentally different from other forms of physical therapy because it utilizes the three-dimensional movement of the horse to mirror movements in the human body. Equine assisted activities and therapies are effective because they connect the physical, psychological, educational, and social elements of healing. The rhythmic and rocking gait of the horse transfers a gentle three-dimensional movement to the rider that relaxes muscles; improves muscle tone, flexibility and balance; enhances spatial awareness; and many other benefits.
We have witnessed participants who have moved from being in a wheelchair to using a walker or crutches to walking independently due to their equine assisted activities. We have had children go from 1-2 word utterances, increase to full sentences. Veterans have started communicating on a broader social level, have learned to smile again, and have regained their pride and self-esteem.
CORE VALUES
At Majestic Hills Ranch, we consistently reinforce with all staff and volunteers the following beliefs, attitudes and actions:
We listen to each client's doctor and parents
We respect each client's life challenge
We protect each client's privacy
We treat each client and family with dignity
We assess each client's progress
We celebrate each client's achievements
We believe in the growth and healing powers of equine assisted activities and therapies.
Instagram