Thunderbird-Wren Halfway House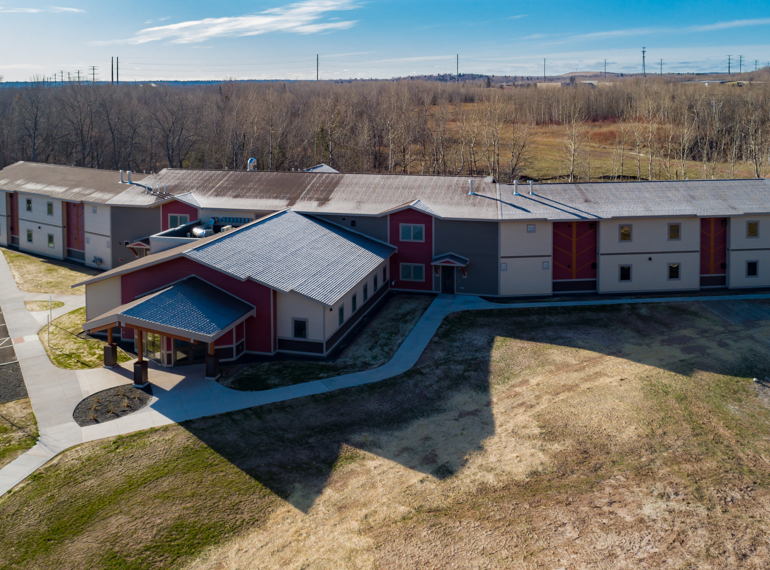 We are looking for donations to help fund a new $6.5 million dollar facility.
$550
raised by 10 people
$1,000,000 goal
We need your help. We are opening our brand new Thunderbird/Wren Halfway House in Duluth, MN in November 2019. It was built from the ground up, a state of the art facility in Morgan Park with 40 beds - 20 male and 20 female. It cost us $6,500,000 which is a lot of money for a small private nonprofit agency like ours. We know the need is great for those with addiction issues to have a safe and sober home while transitioning back to the community. Please help and donate to our cause as this debt is a heavy burden for us. Read more and then please GO FUND US!
Minnesota Indian Primary Residential Treatment Center, Inc., is better known for the two programs we comprise: Mash-ka-wisen Treatment Center and Thunderbird/Wren Halfway House. We are the first Native American owned and operated treatment center in the whole country. We are an abstinence-based private nonprofit agency governed by a board of directors whom are either chairpersons or their designates from Tribal Governments in Minnesota. This year we are proudly celebrating our 42nd anniversary of providing culturally responsive chemical dependency treatment programming for our clients.
From our humble beginnings, we have understood the need for culturally specific treatment to effectively serve our clients. It is common knowledge that historically Native Americans have experienced an array of unconscionable attacks upon their culture and ways of life. The consequences have been staggering as Native Americans make up 1.1% of Minnesota's population but have some of the highest rates of unemployment, incarceration, high school dropout, suicide, chemical use and overdose mortalities. Their admission rates to treatment are typically 10 times higher than non-Native Americans.
In 2018, we served one-third of all Native Americans referred to treatment in the state. Our successful completion rate was 72% compared to 59% statewide. Moreover 20% of our current employees are former clients, now working at various positions including counselors, technicians, cultural advisor, and reception. They have come full circle from chemical dependency, to treatment, to sustained recovery, to working in the field helping others. They are our pride and joy and evidence that what we do is making a difference for individuals, families, and communities.
Mash-ka-wisen is an Ojibwe word that translates "be strong, accept help". We are a residential treatment program located in Sawyer, MN (30 minutes south of Duluth) with 28 male beds and 18 female beds. Men's and women's programs are kept separate in the facility so each gender can focus on their own issues without the distraction of the opposite sex. The average client stay is 30 days. Many of our Mash-ka-wisen clients go on to our Thunderbird/Wren Halfway house for continued structure and support with their respective recovery journeys.
Thunderbird /Wren Halfway House in Duluth, MN has undergone a huge transformation. We are no longer in that old building on Central Hillside. There we were constantly having to address structural problems. Moreover, we were busting at the seams in another way. We had 20 beds and could not accommodate all the referrals for clients needing a placement after completing residential treatment. In 2016, we began the vision of building a new house out of downtown Duluth where we could actually have some green area rather than a parking lot for yard space and, most importantly, where we could better serve more clients.
Three years in the making, our dream has come to be. We are excited to announce that we have built a brand new facility from the ground up, a state of the art $6,500,000 facility located in the Morgan Park area of Duluth. We are opening November in 2019. Our new facility has double the beds, twenty male beds on the Thunderbird side and twenty female beds on the Wren side. The average stay is 90 days. We recognized the need to have more extended placement availability for clients to continue on with their sobriety. We took on this challenge at great expense. This is where you come in: Please be a part of answering the need to help Native Americans get and stay sober by offering your financial support through this GO FUND ME PAGE.
Our goal is to promote positive cultural identity and wellness by helping clients connect to their Ojibwe language, teachings, and traditions for healing on a daily basis. We have two cultural advisors and other respected community Native American practitioners facilitating cultural services for our clients while promoting "Culture is prevention, intervention, and recovery" as well as "Family is culture". Moreover, clients engaging in their culture allows them answers to some of life's bigger questions as to what needs to stay the same and what needs to change. This empowerment through identity is a contributor to breaking the cycle of addiction and looking toward the future as to what clients want for themselves and their children.