Join CloseKnit's Month of Giving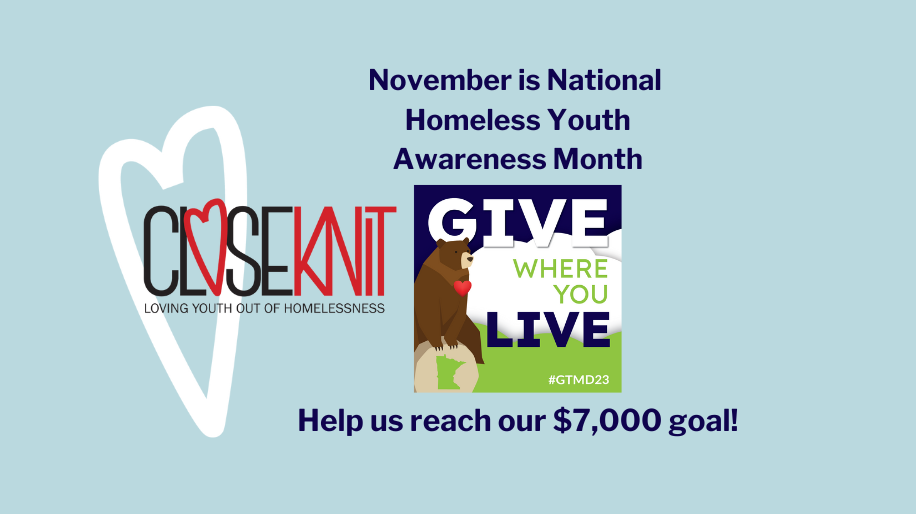 All youth are already loved! Let's invest in their chosen families, preventing youth homelessness ♥
$2,570
raised by 8 people
$7,000 goal
A November to Remember!
About CloseKnit
At CloseKnit, we are driven by a powerful mission and an inspiring vision:
Mission: CloseKnit catalyzes system change, building a holistic response that overcomes racism to honor and invest in existing "chosen family" arrangements that prevent youth homelessness.
Vision: We see all youth facing homelessness as already loved, especially youth from underestimated and under-resourced communities.
---
This November, we're embarking on a journey to make a lasting impact in the lives of countless young individuals. We've aptly named it the Month of Giving, and we're calling on you, our incredible community, to join us in this transformative effort.
Why November 16th Matters
Mark your calendars for November 16th - it's Give to the Max Day! This special day is a pivotal moment for CloseKnit, as it's when we receive a staggering 90% of our annual donations. Your support on this day will fuel our mission and enable us to reach even more youth in need.
How Can You Help?
Spread the Word: Share our mission with your friends, family, and colleagues. Community collaboration is our best way to catalyze change!
Donate on November 16th: Be part of something extraordinary. On Give to the Max Day, your contribution will make a monumental difference.
Become a Monthly Supporter: Provide a steady lifeline for youth in need. Your recurring donation ensures sustained support.
Host a Fundraising Event: Use your creativity to raise funds for CloseKnit. Every initiative counts!
Thank you for being a part of CloseKnit's Month of Giving. Together, we are the change!
Contact Us: [hello@closeknit.us] | [651-243-0033] | [https://closeknit.us/]
CloseKnit is a registered 501(c)(3) nonprofit organization. All donations are tax-deductible to the fullest extent allowed by law.