The Theater of Public Policy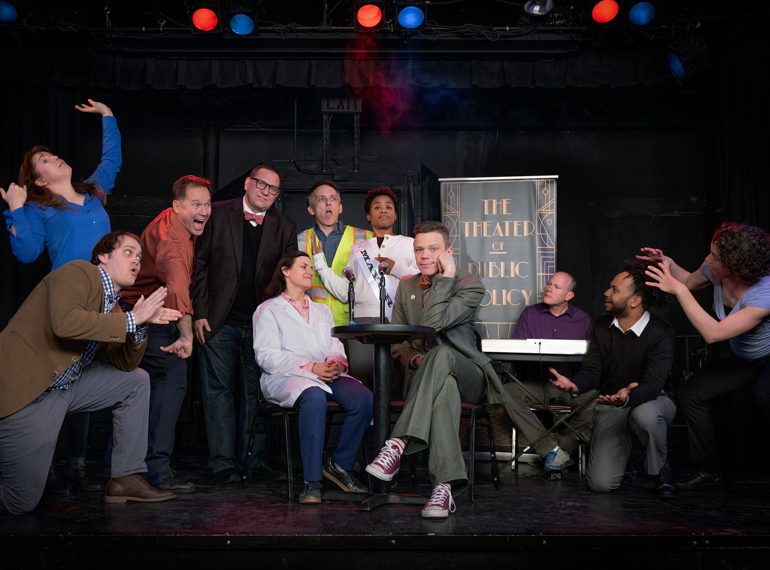 The Theater of Public Policy is creating live theater to make our world more fun and understandable.
$8,607
raised by 50 people
$10,000 goal
Help us reach this year's $5000 goal!
Update posted 3 years ago
As we're sure you already know, the ongoing Covid-19 pandemic has meant big changes and losses  in the world of improvisational comedy theater. We're thankful to still be here,  and the biggest reason why we're even still here is YOU.
Your support means not only can we keep the "thinky" fun going and pay our cast, but weather the constantly changing landscape during pandemic times. 
While we're looking forward to the time when performing live is once again possible and we can return to our home, The Bryant Lake Bowl Theater, we've adapted to the virtual stage to create new online shows, workshops and unique theater experiences. We want to keep doing that, but we need your help. 
WHERE YOUR SUPPORT GOES
New virtual shows and events

Fair compensation for our cast and artistic team

New workshops and facilitated training 

Investment in new work created by BIPOC creators
Every donation, no matter the amount ensures that we stick around both now and in the near (and who knows, even far) future. Thank  you for supporting Minnesota's best (and coincidentally, only) civics-centered improv comedy theater!
Who We Are

We're a Minnesota based theater company that explores big ideas using improv comedy. It's our mission to make complex issues more fun and understandable in order to attract new audiences and get people thinking about these issues in new ways. You can read more about our cast here.
Why Support T2P2?
As a non-profit theater company, The Theater of Public Policy continues in large part with the support of our audiences and donors. In the wake of Covid-19, our future, like so many others, is uncertain. But we continue to be grateful (but not surprised) by the support of our community. To everyone that has donated this year, thank you. We simple can't do this without you. 
Your support means we can keep the "thinky" fun going, continue to fairly compensate our cast and creative team,  and generate exciting, entertaining and informative content for many seasons to come! 
Learn more about us and our work on our website.
Watch our fall 2020 virtual season.
A fiscally sponsored project of Springboard for the Arts. To give to Springboard: https://givemn.org/organization/Springboard-For-The-Arts