COVID-19 Support & Relief Fund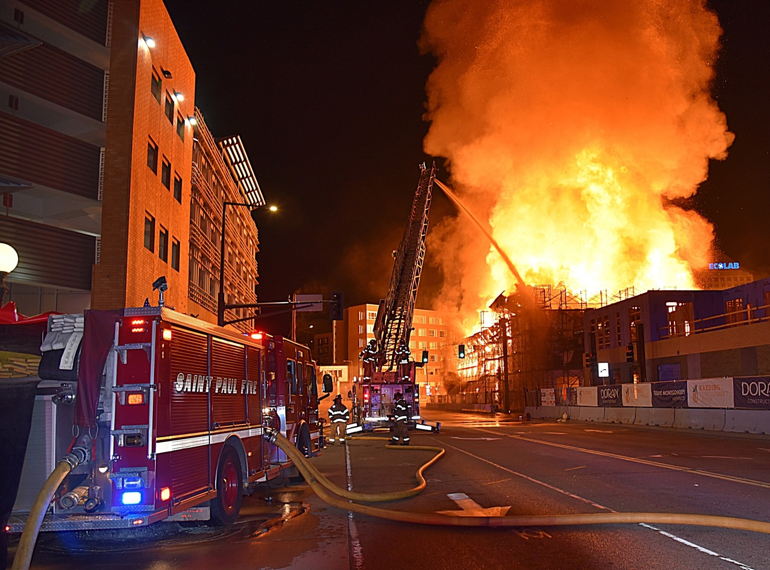 Seeking additional resources to help firefighters engaged in the coronavirus (COVID-19) response.
$11,950
raised by 84 people
$10,000 goal
This is a critical moment for Saint Paul
Update posted 3 years ago
Dear Supporter,  
 We need your help. We need your help now.
Show the St. Paul Fire Department and the brave men and women who responded to the severe and unprecedented emergency your support, donate today.

 The St. Paul Fire Foundation is dedicated to supporting the firefighters of the Saint Paul Fire Department. Given the events of the past few days compounded with the added financial and emotional strain of COVID-19, the Foundation is asking for your help.
 Here is what we know about the demands put on our firefighters of the past few days:
At peak, 1000+ emergency 911 calls for service answered
8 a.m. Thursday to 8 a.m. Friday, it responded to 295 calls for service, 169 of which were EMS calls and 126 of which were fire calls
More than 100 locations that reported damages
Rocks and bottles were thrown at firefighters while they worked to respond to all of the above and more
As work continues on repairing our community let's not forget the St. Paul Fire Department's bravery in keeping St. Paul safe, especially over the past few days. 
Help us in recognizing their hard work to preserve life and protect property as well as the sacrifices they've had to make in times like these.  
 With your generous contribution, we will provide support to the SPFD in meeting the unique challenge we find ourselves with today and the increasing demands of a global pandemic. 
The City of Saint Paul and the SPFD are being challenged like never before. 
It's in moments like these when we can show everyone what makes Saint Paul such a great city and remind ourselves why Saint Paul is the most livable city in America. Let's show the Firefighters who endured rocks and bottles being thrown at them while doing their job that there are a great many more people in Saint Paul who stand with them. 
 Now is the time to come together, help each other, and thank the firefighters who keep Saint Paul's families, businesses, and community spaces safe. 
The St. Paul Fire Foundation is dedicated to supporting the firefighters of the Saint Paul Fire Department.   Extraordinary situations, like COVID-19, cause an even greater strain on the department – both financially and emotionally.   
The Saint Paul Fire Department not only provides fire protection to the residents of the City of St. Paul, they are also the primary emergency medical service (EMS) provider for the city.  
Emergency medical services (EMS) play a vital role in responding to requests for assistance, triaging patients, and providing emergency medical treatment and transport for ill persons. However, unlike patient care in the controlled environment of a healthcare facility, care and transports by EMS present unique challenges because of the nature of the setting, enclosed space during transport, frequent need for rapid medical decision-making, and interventions with limited information.
To meet this unprecedented need, we  have created a fund to help lessen the financial impact of the pandemic. Your donations will help ensure that the firefighters and EMT's get the support they need.
Here are examples of some of the items your donations would supply firefighters with:
N95 respirator masks
Disinfectant – cavicide or similar
Cleaning wipes with bleach (i.e. Clorox)
Hand sanitizer swabs (Dacron, Rayon, Nylon)
Safety Glasses\gowns
Face shields
Mental health support and resources: During this time of uncertainty, mental health is more important than ever.  Anxiety and depression symptoms rise during times of crisis.  Firefighters are on the frontline of this pandemic.  They are worried about contracting the virus, but are struggling more with the possibility of bringing it home to their families and loved ones.
The generosity of our community stands out in times like these. We would like to recognize Leafline Wellness  for their steadfast and ongoing support as our firefighters and EMT's work around the clock transporting and caring for patients affected by COVID-19. Leafline Wellness will match all COVID-19 campaign contributions dollar for dollar up to $20,000 - thank you for your generosity!
For questions, contact us at SPFF@Comcast.net
Instagram