Support the Winona Farmers Market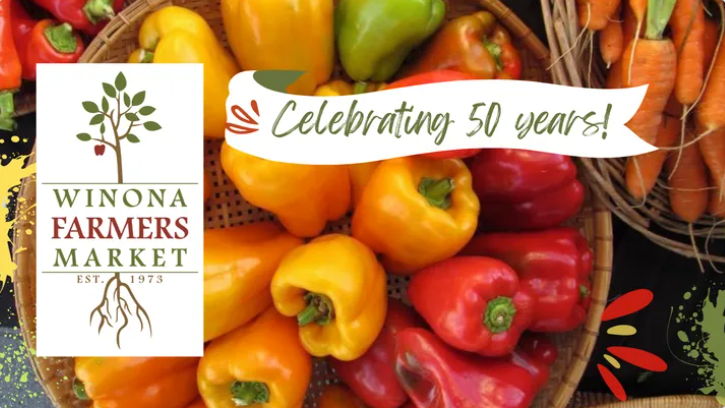 Support the Winona Farmers Market
$0
raised by 0 people
$25,000 goal
Welcome to the official Give to the Max page for the Winona Farmers Market! We are excited to share the story of this vibrant community gathering place and seek your support in sustaining its growth and impact.
The Winona Farmers Market has been a part of our community for over 50 years, serving as a marketplace for locally grown food, handcrafted goods, and a space for fostering connections between farmers, artisans, and residents. Located at the heart of Winona, our market has become a cherished destination on Saturday mornings where people can access fresh, nutritious food while supporting local agriculture and small businesses.
Even as we celebrate our 50th anniversary, the Market is facing financial challenges that need to be addressed. The purpose of this Give to the Max campaign is to rally support from our community and beyond to help ensure the long-term viability of this essential resource.
Why We Need Your Help:
1. Support Market Programs: Power of Produce (POP) program, which gives free access to produce for children ages 4 - 12 in our community, has been more successful than ever; your support will help us maintain and grow this great program. These funds will also support family activities, music and education programs.
2. Local Support: Our market prides itself on empowering local farmers, artisans, entrepreneurs, and employees. Your contribution will help us keep our vendor stall fees stable, while attracting additional food vendors and other local artisans who comply with our guidelines and policy.
3. Community Outreach and Education: The Winona Farmers Market is committed to educating the public about the benefits of locally sourced food and sustainable agricultural practices. Your support will enable us to promote local educational programs, engage in outreach initiatives that encourage healthier eating habits, foster environmental stewardship, and promote food security.
How You Can Make a Difference: Your generous contributions will directly impact the future of the Winona Farmers Market and the broader community it serves. Donate to our Give to the Max campaign and become a partner in promoting local food sources and foster a healthier community.
Winona Farmers Market is a 501(c)3 non-profit. All contributions are tax-deductible. Every dollar counts, and even a small donation can make a significant difference. We also encourage you to share this campaign with your friends, family, and social networks, spreading the word about the Winona Farmers Market and its valuable contributions to our community.
Together, let's build a brighter future for local agriculture, small businesses, and our community. Join us by supporting the Winona Farmers Market today!