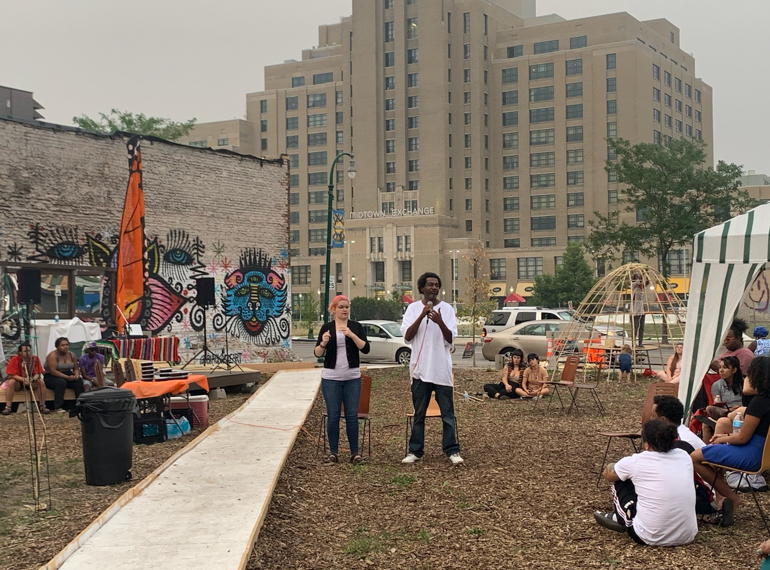 Coming together as neighbors to rebuild a sense of belonging to this land and each other.
$2,149
raised by 36 people
$100,000 goal
Throughout the summer on the Robert's Lot on Chicago & Lake, the Lake Street Truth Collective is organizing free, accessible community dinners & community healing events as part of a grass-roots "Truth & Repair" process.  Facilitated dinners create structure for participants of different backgrounds to discuss themes such as homelessness, immigration, community violence, and environmental threats. 
Free food, child care, and interpretation into Spanish, Somali and ASL, allow people from different backgrounds to participate and communicate more freely.  Attendance has averaged 50-80 people per event, with food coming from Midtown Global Market vendors. A very diverse group of participants have been joining us, from neighbors who received flyers to unhoused people who learn what's happening as they walk through the space. Multi-lingual flyers spread the word in the surrounding neighborhoods.
The overwhelming majority of feedback we've heard has been very positive -- people are grateful for a space to come together & meet neighbors in a space with good vibes, after a hard year. Our collective, many of whom are Latine, are taking extra care to include our Latine neighbors and business owners, many of whom have been left out of larger conversations because of language barriers and long-term community isolation. We actively welcome passers-by who walk through the Lot on their daily path.
The continuation of these conversations is currently under discussion, as our ability to host has recently been extended through August or possibly October. Community conversation topics could include a discussion of homosexuality within the Latinx community, an intentional conversation between Latinx business owners on Lake Street and the Sex Workers Organizing Project, and more in the works. A number of other groups have approached us about hosting their own community conversations in the space, and we've received funding from the Black Visions Collective to share what we hear in our Conversation Cafès with their People's Movement Assemblies. We plan to document our process and share it as a model with other communities and neighborhoods to learn from our experiences & are considering how to make this cross-cultural community-building work sustainable.
Funds from this GiveMN will support paying our predominantly BIPOC staff for their organizing & talents at a respectful, collective rate while we continue to hold space at Lake & Chicago. It will also cover expenses for food, art, structures like the stage & the accessibility ramp. We are also planning to host a delegation from the international Black & Indigenous Liberation Movement in August, to discuss global solidarity within our movements.