FB4K MN Bikes for ALL Give to the Max 2021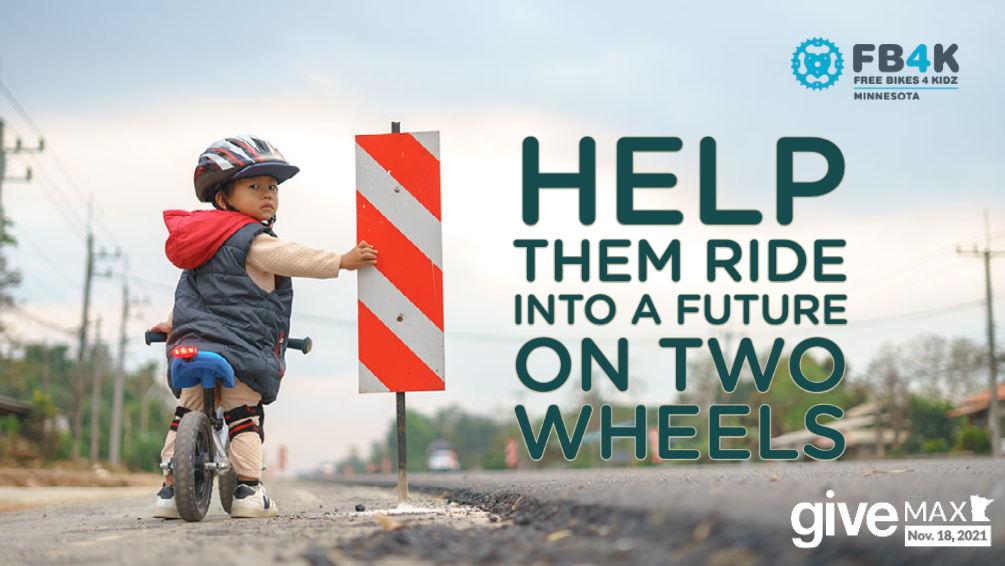 We are getting bikes to kids who need them now. We need your help today to make it happen.
$56,710
raised by 158 people
$75,000 goal
These are uncertain times. Things we thought we could always count on have changed and our routines are disrupted. Top these challenges with income insecurities results in stressed households. We can support families during this difficult time by providing bikes to kids who need them. We can ensure every kid has the opportunity to ride, but the pandemic has impeded our production speed. We have 13,000 bikes in the warehouse and it will take a few more months to do it.
We are at a bit of a disadvantage this year. Halloween night, the FB4K MN warehouse was broken into and burglarized. The tally of hard costs to replace the computers, electronics, and tools that were stolen is over $13,000.
Those who stole from us took more than stuff. They stole from the kids waiting for bikes, the volunteers who work so hard to finish the bikes, the donors and partners who trust our stewardship and cause, and the very communities in which they live. The burglary profoundly affected our production capacity.
Despite this serious set-back and mess (took the full week to clean up), our spirit and focus will not be broken, and we remain hopeful that the community and our supportive donors will help us do what we need to do to get kids on bikes.
FB4K MN will not stay down for long. Our goal is to get back to full capacity and overcome this setback with help from all of you. Please help us get back to what we do best.
It only costs $30 to provide a bike and a helmet to a kid. Your support will open the door to possibility.
$30 Helps an Individual
$1,000 Helps a Neighborhood
$10,000 Helps a Whole Community