Keep the Shanties on the Ice for 20 more years!!!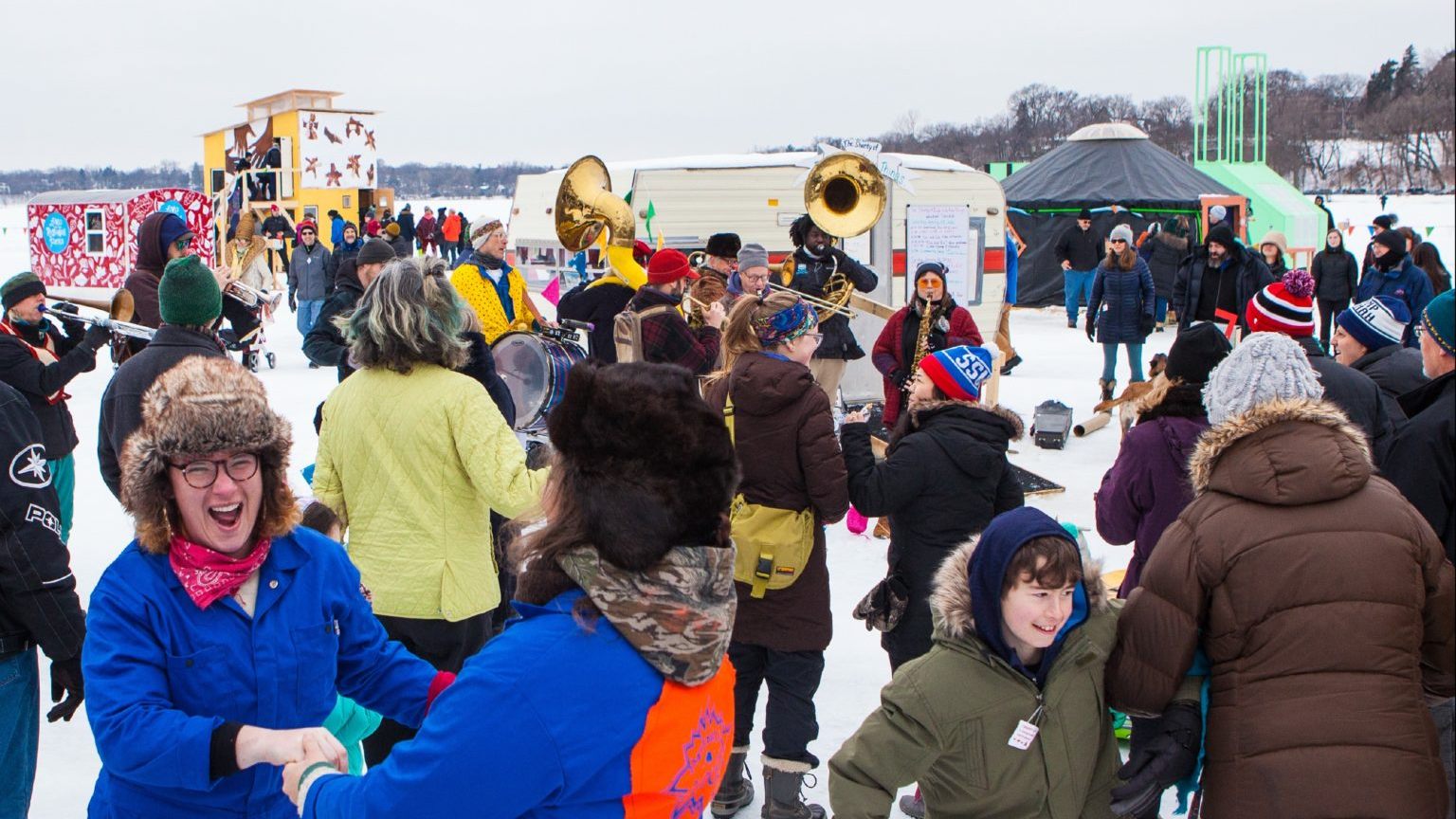 20 years of this weird, wild, wacky and wonderful community on ice. Let's keep it going. Donate!!!
$0
raised by 0 people
$1,000 goal
We're celebrating 20 years of weird and wonderful winters!
To ensure we see another 20 wonderful winters, the board is raising money to support the core work of Art Shanty Projects that includes paying artists, staff, and creating a sonically satisfying, visually dazzling and community-engaged program that gets people outside, creatively connecting with one another in winter. Our collective board goal is to raise $6,000. Gifts of all sizes are welcome! 
So what exactly is Art Shanty Projects?
During four winter weekends, artists, performers and thousands of community members gather on the frozen Bdé Umáŋ (Lake Harriet) to co-create public art in the shape of a village of artist made shanties, performances and art actions. The On-ice Program will take place from 10am-4pm on Saturdays and Sundays, January 20 – February 11, 2024. 
Our mission centered work focuses on bringing this art village to our community amid climate change and environment. While we work to help our community to sustain throughout the winter, we also forge new ways of thinking about winter for both artists and people who visit. Lured by the dynamic creative energy of the village and friendly invitation to participate, thousands of visitors access a variety of art forms and engage in creative exchange with artists. Visitors tap into their own creativity and expand their notion of what art can be. 
As Minnesotans we understand the heartiness of all seasons living in the upper midwest. For many, winter months can be gloomy and isolating. Connections to others and time outside can help break up the winter monotony. ASP fills a community need for the general public to have inexpensive, accessible, arts engagement in winter.  ASP helps our community work through this loneliness with opportunities to experience collective effervescence. 
Collective Effervescence, a term founded by sociologist Émile Durkheim, is when people move together, offering a feeling of being exalted, bubbling or being ecstatic. This can be captured when people dance together, attend rallies, sporting events, or feed off the energy a crowd can bring. New science also tells us that people living in day-to-day life, e.g., people walking to work, kids in a dance class, people picnicking, can also bring about this feeling of togetherness. In relation to the physical collective effervescence, scientists have been studying people who listen to the same music and found their brain's neurophysiological state changed together. Cortisol and hormones started linking up. People's moods would lift. Moreover, this change most often happened in nature – like on a frozen lake. 
Will you help us uplift our collective effervescence with a gift today?
We invite you to celebrate the human connections that are formed in creative community, in winter, in our beloved city, at Art Shanties. Our community event is community funded. The radical generosity of individuals like you make it possible for us to keep the festival free and accessible to all. 
SUGGESTED DONATION LEVELS:
We gladly welcome donations in any amount. Give $20 in celebration of 20 years or round up and become a member! 2024 shanty season Memberships start at just $25. We invite you to give at a level that feels meaningful to you. All members receive the same benefits. 
Bring HOPE! $25 (one-time gift)
Bring FUN! $60 (or $5/month)
Bring DELIGHT! $120 (or $10/month)
Bring JOY! $240 (or $20/month)
MEMBERSHIP BENEFITS
Access to exclusive member events: Launch Party (November 9), Member Night on Ice (date emailed to members), & Wrap Party (February 24).  Meet the artists, connect with shanty enthusiasts, and get a behind-the-scenes look at the artmaking.
Member button! (pick it up at any of the member events, or at the Welcome Shanty at the festival)
A 10% discount on Art Shanty Projects merch at the festival
Recognition on the Art Shanty Projects website 
Recognition on the donor wall at the festival (if you give by December 31, 2023)
A chance to win prizes from local businesses
Keep your mittens on at the gate! (you don't have to wait in line)
*We think the biggest benefit of all is the warm feeling that you get from supporting an artist-driven community program on ice!