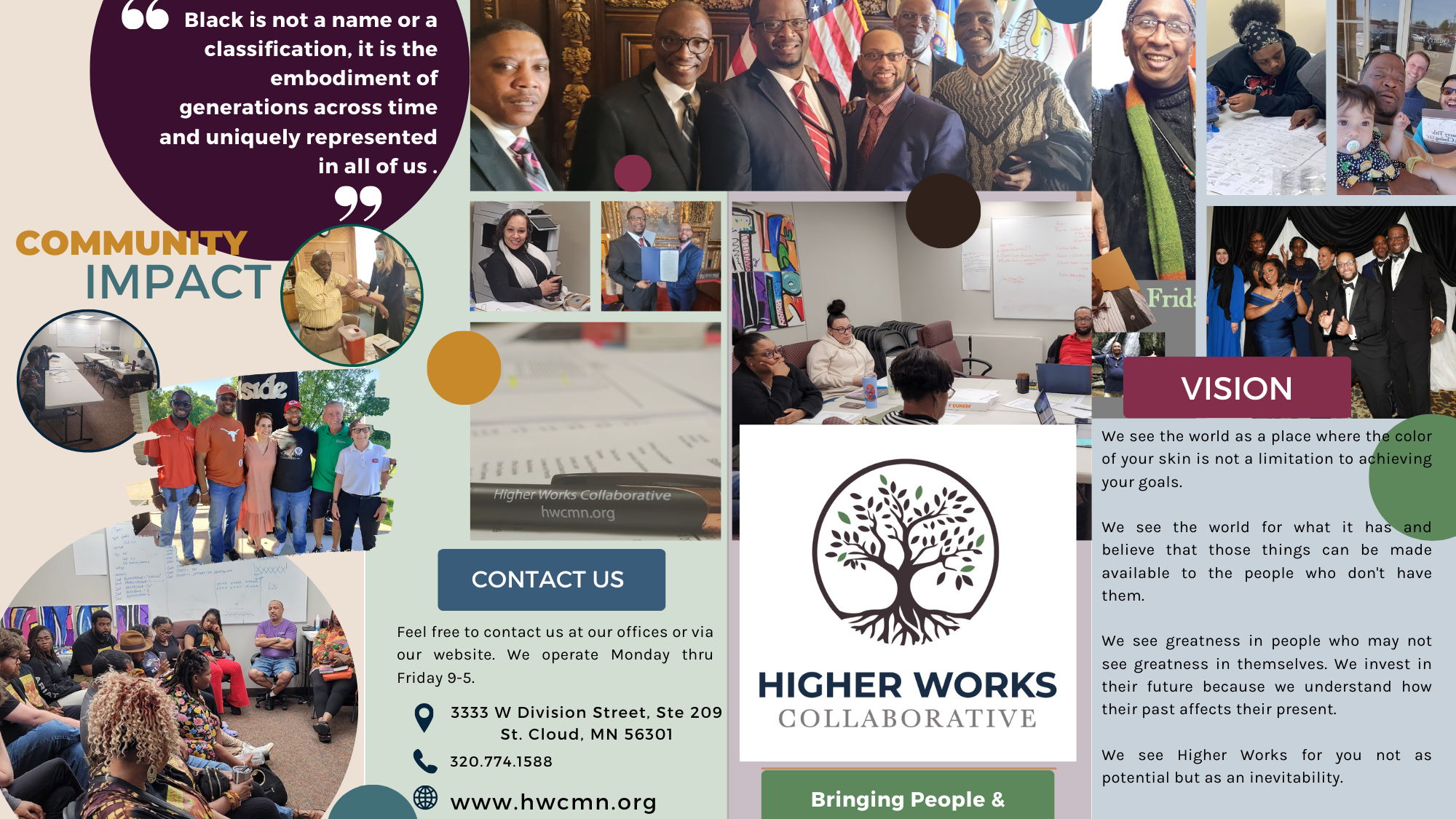 Higher Works Collaborative is an organization committed to serving our community consistently.
Our Mission
HWC's mission is to bridge the gaps and meet the needs of our BIPOC community through a holistic approach that fosters individual and collective empowerment. We strive to create a community where all people have the opportunity to live their best lives as their best selves.
Our Vision
HWC envisions a thriving African-American community in Central Minnesota where individuals, families, and businesses have the resources and support they need to achieve their full potential. We believe that by working together, we can create a more equitable and just society for all.
Our Values
HWC is guided by the following core values:
Empowerment: We believe that every individual has the power to achieve their dreams.
Equity: We are committed to creating a just and equitable society for all.
Collaboration: We believe that we can achieve more by working together.
Community: We are dedicated to strengthening our community and building a sense of belonging.
Why Become a Collaborator and Supporter
By becoming a collaborator and supporter of HWC, you are making a direct investment in the future of our community. Your contributions will help us to:
Provide essential programs and services to those in need.
Empower individuals to achieve their full potential.
Create a more equitable and just society for all.
How You Can Help
There are many ways to get involved with HWC. You can:
Make a donation: Your financial contributions allow us to continue providing vital programs and services to our community.
Volunteer your time: We rely on the dedication of our volunteers to make our programs a success.
Spread the word: Tell your friends and family about HWC and our mission.
Attend our events: We host a variety of events throughout the year that are a great way to learn more about our work and connect with other supporters.
Thank You for Your Support
We are grateful for the generosity of our supporters. Together, we can make a real difference in the lives of individuals and families in our community.