Lanesboro Library 'Teen Space & Charging Station'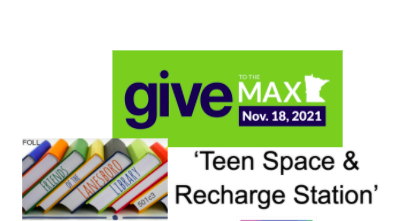 All teens will have access to a common space to meet friends, study, read books & charge devices.
$500
raised by 8 people
$2,000 goal
Donate ONLINE or IN-PERSON
Update posted 2 years ago
Feel free to donate ONLINE or IN-PERSON!  See more info below:
'Donations (checks only) may be mailed or dropped off at the Lanesboro Library during open hours. Thank you for supporting the Teen Space & Charging Station. Please add a note and/or comment on the check memo as a donation to the teen project.'
202 Parkway Ave S. PO Box 330 Lanesboro, MN 55949 Make Checks Payable to: FOLL      *Friends of the Lanesboro Library.
The 'Lanesboro Public Library Teen Space & Recharge Station' invites Teens by providing a safe space to spend time on both educational and social aspects of growing up in the 21st Century in Rural Southeastern Minnesota.  All teens will have access to a common space during 'open' library hours to meet friends, read books, and/or recharge their electronic devices.  During the cold harsh winters in MN, the Teen Space will be a welcoming WARMING HOUSE and in the heat of an MN summer, the Teen Space will be a great place to COOL DOWN.  
The ultimate goal is to INCREASE teen traffic into the Lanesboro Public Library building  & invite both local and our entire Fillmore County Area.  A quote  taken directly from the ALA (American Library Association), see below:
'Looking at teen facilities design in a new light, letting go of antiquated ideas, re-evaluating traditional ways of doing business, and emphasizing patron needs and wants are essential first steps in moving forward in the world of 21st-century libraries.' 
          Quoted text from:  https://www.ala.org/yalsa/guidelines/whitepapers/teenspaces
The number one goal is to provide a safe space where ALL ARE WELCOME no matter the age.  Teen spaces are few and far between, and in a rural town such as Lanesboro-there needs to be a space where teens can be & 'hang out' where they are 'Seen' and 'Welcomed' by adults in the community.  Collaboration outside of the school day benefits all!