Emergency Relief Fund for MN Artists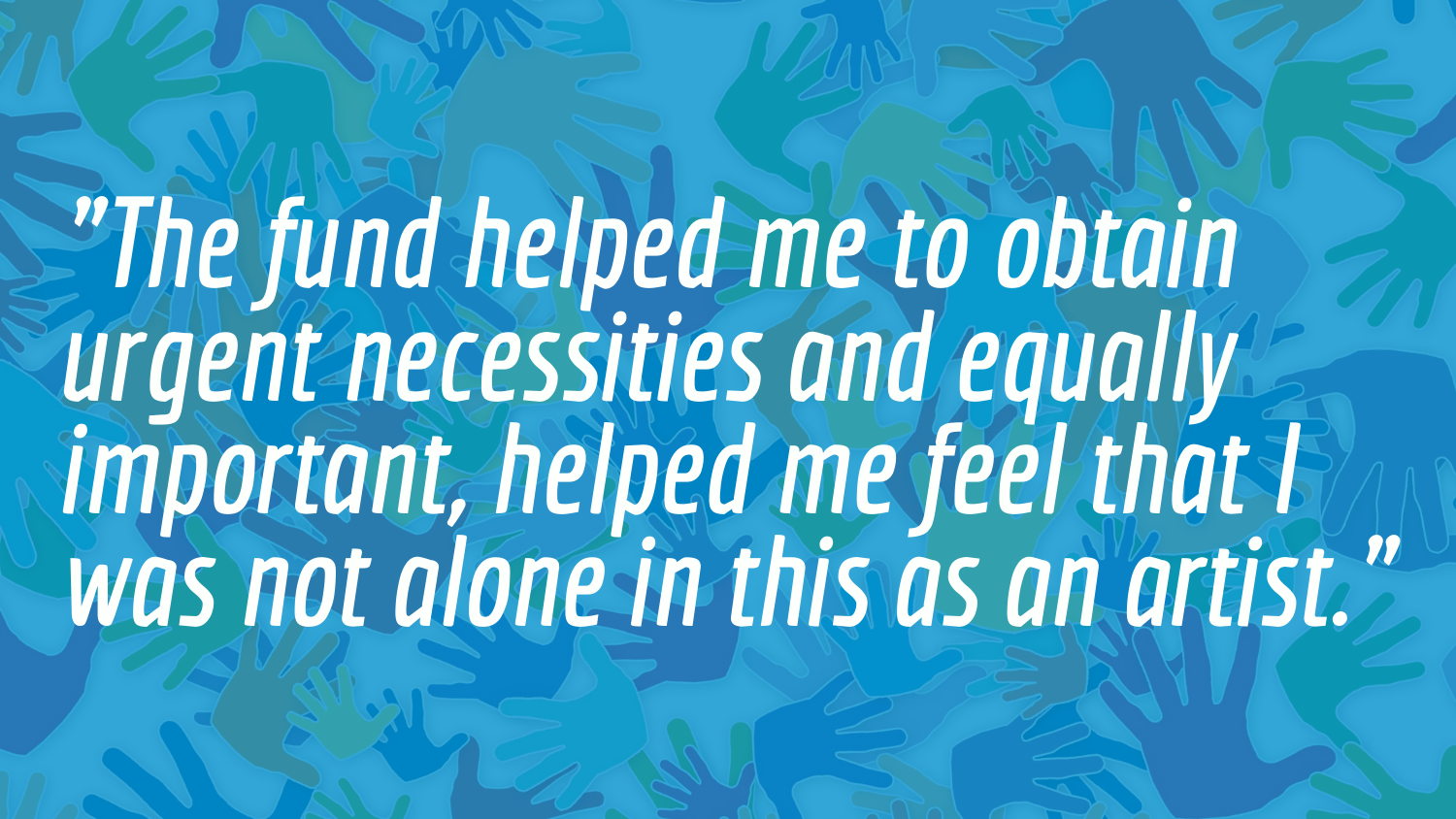 Emergency Fund for Artists, Culture Bearers, and Creative Workers Facing Unexpected Emergencies
$217,078
raised by 1,488 people
$216,378 goal
Thank you for your support of artists, cultural workers, and culture bearers during the pandemic! Please note that we have met our fundraising goals for the Personal Emergency Relief Fund. Future support given to this campaign will be invested in Springboard programs that support the immediate needs of artists. 


---
ABOUT
The Personal Emergency Relief Fund (P-ERF) has helped artists in Minnesota recover by helping pay an unanticipated, emergency expense. Artists can request up to $500 in the face of medical needs, fire, flood, theft, equipment loss, or other career-threatening emergencies. Springboard takes no administrative fee, so 100% of every dollar contributed is redistributed to an artist recipient, excluding GiveMN processing fees.

The P-ERF has been supported by people like you—those who care about artists and their work in envisioning a better world for us all. Your support has made it possible to distribute important emergency relief to Minnesota artists.
HISTORY
From March 13 through June 30, 2020 we opened up P-ERF for artists who lost income due to COVID-related cancellations. In the first round of this emergency funding, we were able to fund 2,222 artists and pay out $1,079,500, thanks to donors like you.

We were able to run a second round of the P-ERF at the end of 2020, with anonymous support, Team Lori & Julia for MyTalk 107.1 Project Down and Dirty, including sponsors David at First Equity and Aquarius Home Services, the City of Saint Paul, and of course, individual donors. In this round, we were able to fund 373 artists and pay out $186,500. 

In February 2022, we funded payments to 141 artists, paying out $70,500 to support those whose livelihoods had been disrupted by Omicron.
---
To learn more about our Personal Emergency Relief Fund, or apply, click here.
For more Coronavirus/COVID-19 resources for artists, click here. 
Springboard for the Arts is part of the Upper Midwest Emergency Relief Fund coalition, in partnership with Arts South Dakota, Crosshatch Center for Art & Ecology, CultureSource, ImagineMKE, Racing Magpie, and The Arts Partnership.