Communication Center State Services for the Blind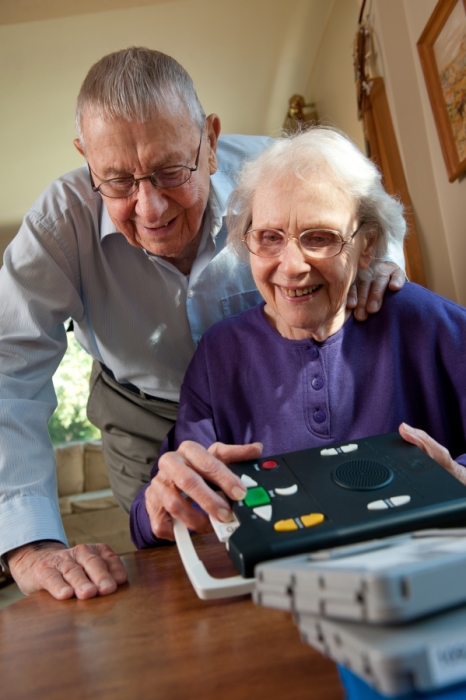 $37,425
raised by 251 people
State Services for the Blind provides tools and training for employment, living independently, and accessing print. We assist Minnesotans who are blind, DeafBlind, experiencing vision loss, or have difficulty accessing the printed word.
EMPOWERMENT THROUGH ACCESS
"We'll keep you reading," is the unofficial slogan of the Communication Center, the division within State Services for the Blind charged with making the printed word accessible to everyone.
With the help of more than 600 volunteers, we transcribe print into braille, audio, and electronic text.
Our radio reading service, the Radio Talking Book, broadcasts readings of local newspapers, current books, and magazines over a 24-7 closed-circuit radio signal.
Our Braille and Audio Services sections produce custom transcriptions free-of-charge for qualified consumers.
A senior keeps up with her book group, by listening to the recording we've made.
A student reads her geometry book in braille, studying the diagrams that our staff have produced as tactile graphics.
A professor keeps up with his field by reading the latest technical journal that our team has scanned into an accessible electronic format.
Every year 13,000 Minnesotans turn to State Services for the Blind for access to information in a form that works for them.
EMPOWERMENT THROUGH INDEPENDENCE
Active seniors are healthy seniors. Every year, our counselors work with more than 4,000 Minnesota seniors who are experiencing vision loss. We're committed to helping seniors remain independent, active, and connected to community. We provide some simple aids and devices, training, and support, so that seniors with vision loss can continue to lead the lives they want, doing the things they love.
EMPOWERMENT THROUGH EMPLOYMENT
We help level the playing field so that Minnesotans who are blind, visually impaired or DeafBlind can be a part of our economy and our communities. Every day, blind, visually impaired and DeafBlind Minnesotans head off to their jobs as accountants, teachers, machine operators, computer programmers and office workers.
Communication Center State Services for the Blind partners with the Saint Paul & Minnesota Foundation to accept tax-deductible donations to support our work.