Let's Go Fishing Eden Prairie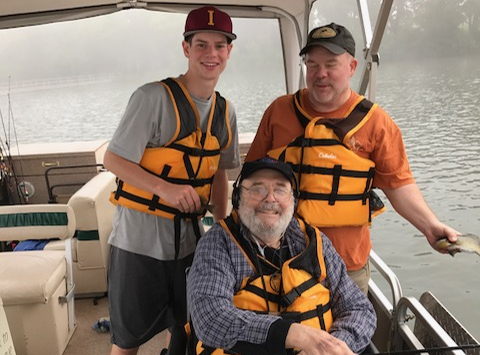 We take veterans, seniors, hospice patients, disabled individuals, and kids on fishing trips.
$2,380
raised by 21 people
$5,000 goal
Let's Go Fishing of Eden Prairie provides incredible experiences for veterans, senior citizens, hospice patients, disabled individuals, inner-city youth, and many more, free of charge. 
We take groups out on pontoons for two-hour fishing trips on Lake Riley in Eden Prairie. It's an opportunity for many people who LOVED fishing in their youth to have the chance for trips they never thought they'd be able to take again. For others, it's a chance to introduce the sport of fishing and boating to children who have NEVER had the opportunity to be on the water and experience the joy of fishing with their friends. 
Our organization is supported entirely by volunteers and donors. In 2019, 100+ volunteers provided trips to more than 4,100 individuals! Many participants said it was one of the most amazing experiences of their lives.
Pictured is our friend, Bill, who lived in Burnsville. His son from New York heard of our work and called us to ask if we could make his last wish come true. Bill was a veteran and a hospice patient who had a very short time to live.
His son told us his last wish was to go fishing with his son and his grandson. But because he was in a wheelchair and on oxygen, he and his family didn't see any way to make it happen. He was too frail.
Thanks to donors like YOU… LGF of Eden Prairie made his last wish come true. We took him and his family out on a fishing trip … and Bill ended up catching more fish than his son and grandson combined! He told us it was one of the best days of his life and his family was incredibly grateful for such a special experience.
Just two weeks later, Bill passed away. We are proud to have provided him with such an amazing experience with his family during his last days.
LGF Eden Prairie is a 100% volunteer-run organization. It costs thousands of dollars each year to provide fishing trips to people such as Bill. 
Will you help us to continue providing amazing experiences for seniors, youth, veterans, and disabled individuals? Your gifts will make a tremendous difference in the lives of so many people.
Thank you for your support!