Peace Education Fund in Memory of Burt Berlowe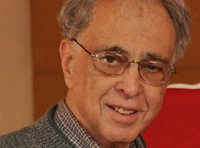 To honor writer and journalist Burt Berlowe & support educators and students in being peacemakers.
$545
raised by 11 people
$3,500 goal
This memorial fund for Burt Berlowe is being generated by PeaceMaker MN, an organization whose mission is to help schools be safer places, free from bullying and harassment, and to help youth learn positive relational skills like empathy, respect, cooperation and how to resolve conflicts peacefully.
Burt Berlowe, the award-winning author of the book, The Compassionate Rebel: Ordinary People Changing the World—and co-author of the book's series, was a journalist who had a passion for stories of social change that brought about a better life for everyone, not just some.
As a writer and journalist, Burt knew that hearts, minds and even systems are changed by the power of storytelling. When we see those around us taking steady, courageous actions, we know we can too. When we witness others modeling the skills of peace in community and in the classroom, we can learn and impart them too, liberating the compassionate rebel within ourselves.
In honor of Burt's telling the stories of how ordinary people change the world, donations to this fund will help incubate Peace Literacy education, a framework for teaching the complex, cumulative skills that help students develop the muscle to make ethical decisions and take effective action—the muscles of humanity. The fund will be directed to educators and classrooms at Hamline University's lab school, Hamline Elementary, to purchase books and learning tools about peace, or skill development support, that will guide them to see themselves as the changemakers now creating a stronger world.
If you prefer to donate to this fund with a check, please make it out to PeaceMaker Minnesota and write Burt Berlowe on the memo line. Checks may be mailed to 2131 Fairview Avenue North, Suite E, Roseville, MN 55113 and are tax deductible according to law.
Thank you for your generosity in honoring Burt's peacemaking legacy.