Points of Light Music's "Biracial & Rural Story"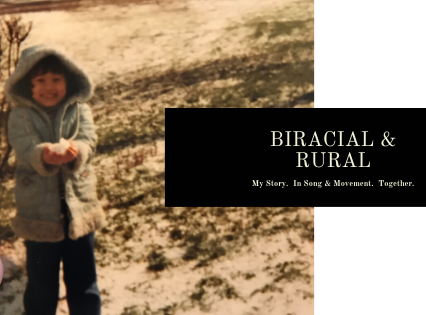 Please visit our fundraising page at https://www.givemn.org/story/Biracialandrural21-22
$2,924
raised by 44 people
$5,000 goal
Please visit our new fundraising page!
Update posted 2 years ago
The story of biracial kids in rural America is one that is mostly invisible to others.
I, Conie Borchardt as Points of Light Music, want to bring that story to the surface for many reasons.
1) We need to complexify the narrative of Rural Life and build a bridge over the Urban-Rural Divide.
2) Because representation matters! Biracial people need to see themselves in many different roles. Everybody needs to see and hear healthy vulnerability and healing.
3) For my own healing and growth.
I invite you to support me in bringing light on my story and those of other rural biracial families. Together we can create spaces where storytelling leads to understanding a diverse community with our heads, hearts, and bodies.
--
As a biracial person growing up in a largely mono-European rural community on the Minnesota prairie, I wanted to fit in desperately. Observing language, skin color & eye shape, family traditions & cultural norms were ways I figured out whether I did. Or not.
Little did I know this environment would set me up for a lifetime of internalized racism. For as long as I can remember, I have been comparing myself to a white ideal. And always coming up short.
With this production of "Biracial and Rural", I will share what I've learned about racism, how it has and continues to pervade my life, and how I'm healing my story. I also plan to provide opportunities for audience members to talk about how racism shows up in their life and give them embodied somatic resources to increase their capacity to continue having these conversations. Ideally, these small individual steps move us toward a new community and culture where marginalized voices are heard and centered.
My intent in creating and producing this performance piece is to create brave space for little known stories to be told, where awareness and compassion can increase, and our world is transformed by shifting how we understand ourselves and the cultural systems we live in better.
Points Of Light Music is a fiscally sponsored project of Springboard for the Arts. To give to Springboard: https://givemn.org/organization/Springboard-For-The-Arts
--
For a few years now, I've realized I needed to tell my story. As a classically trained musician who now focuses most of her time and energy on liberating sound practices of paperless community singing and movement, I didn't know what would like, not having spent much time in this realm of theater. I've been exploring and experimenting with improvisation through Interplay and believe that telling my story through the "Big Body Stories" form is the way to go for me.
I'll be incorporating vocal play, community singing, and Dances of Universal Peace into the performance piece because they were and are pivotal practices for my liberation and healing. The only way I can express enough gratitude for these practices is to share them with others.
Your donations to "Biracial and Rural" will help me prepare and produce this autobiographical song and movement play by renting space and equipment for rehearsal and performance, working with Interplay leaders and other theater professionals to frame and perform this performance art piece, purchasing supplies for costumes and set, plus any unforeseen costs because I'm entering an artistic medium with a beginner's mind.
--
As we move closer to the 2020 elections, there's much talk about how urban centers vote blue and rural areas vote red and how we are a nation divided. There are many stereotypes in play about who we think live and work in these areas. I would like to complexify these narratives by inviting folks into learning more about the Other, whomever the Other might be for them.
I believe sharing my "Biracial and Rural" story with urban folks presenting as white and BIPOC will give them one person's experience as a multi-ethnic and rural person, while sharing Biracial and Rural with rural folks will give them more background on one person's experience as a multi-ethnic person who also now lives in a large metro area.
--
With a successful fundraising campaign, I will present my story, "Biracial and Rural", in the summer of 2020. Beyond that, I envision taking the production on the road, for it to be a starting place for more stories to be shared, more conversations to be had, more understanding to be fostered.
Even if you are not able to contribute to this campaign, I look forward to seeing you in the audience! I will post updates on this fundraiser page and on Instagram (pointsoflight_mu) so please follow to find out the when's and where's as they are announced.
Please join me so we can support future generations in making healthier and humanizing decisions. Join me in bridging the divide between rural and urban and complexifying the narrative of who lives in rural America.