Art Shanty Projects 2024 Member Campaign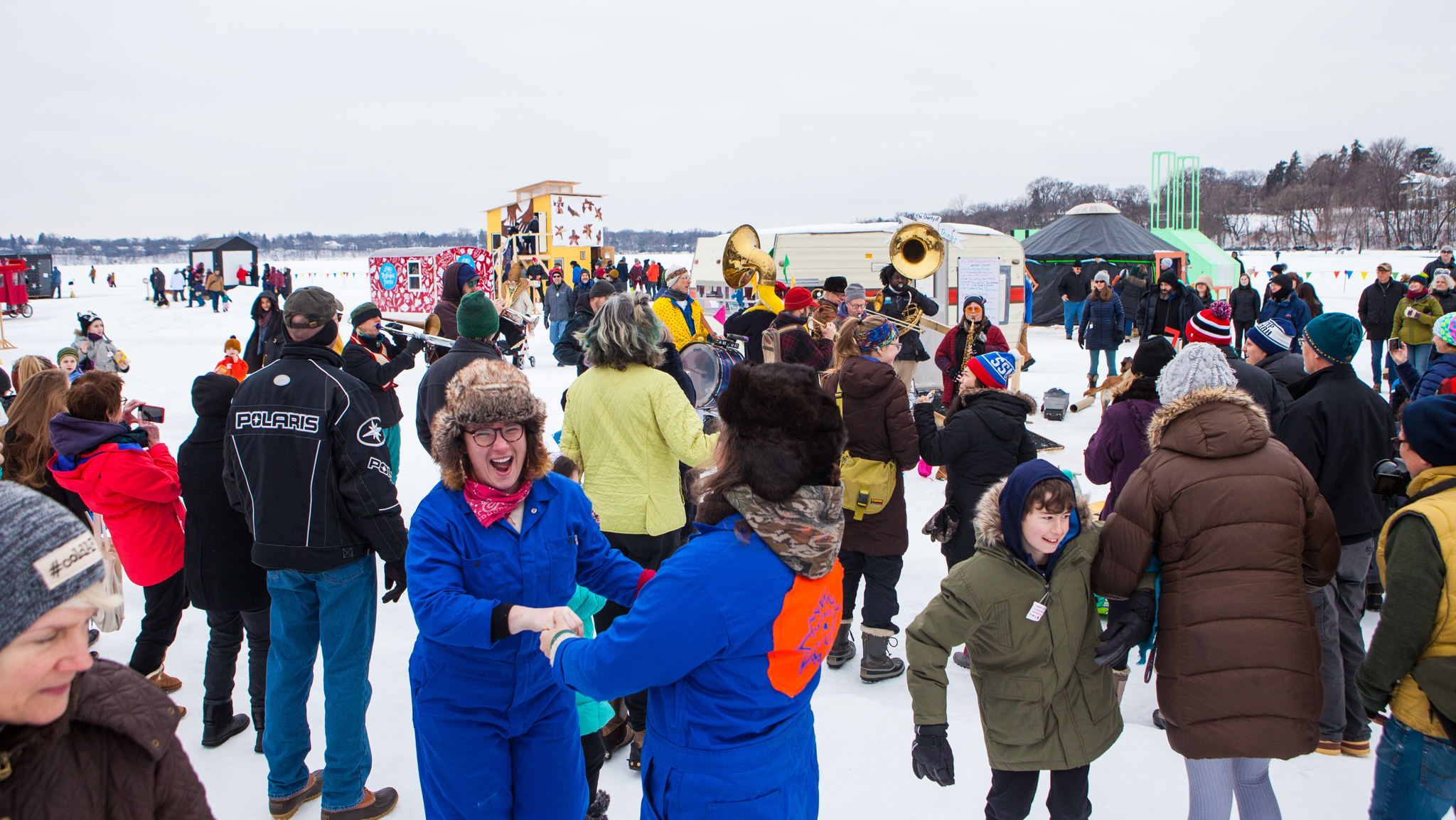 Celebrate 20 years of weird & wonderful winters! Support our annual shanty village with a donation!
$1,907
raised by 42 people
$20,000 goal
2024 PROGRAM
We're celebrating 20 years of weird and wonderful winters! 
The On-ice Program will take place on Bdé Umáŋ (Lake Harriet) from 10am-4pm on Saturdays and Sundays, January 20 – February 11, 2024. We have some fun things in store to celebrate - save the dates, we hope to see you there!
2024 MEMBERS ARE INVITED TO THREE SHANTERRIFIC PARTIES!
Membership Launch Party: featuring delicious drinks, a hot potato bar, music, and Art Shanty trivia. This is OUTSIDE on the patio at Lake Monster Brewing on Thursday, November 9, 6-8pm. All are welcome to join, but members get free tap drinks courtesy of Lake Monster and are eligible to win most excellent prizes. Bundle up in your wildest, most shantastic (and WARM) outfit for a chance to win the grand prize of the night!
Member Night On Ice: an intimate chance to see the shanty village after dark. Enjoy hot food and drinks, bonfires, and cool company with the artists. This happens in the shanty village on Bdé Umáŋ / Lake Harriet. Date and time will be revealed to members in January.
Wrap Party: This is a post-program celebration for the artists! Date / time / location will be revealed to members in January. 
SUGGESTED MEMBERSHIP LEVELS:
We gladly welcome donations in any amount. 2024 shanty season Memberships start at just $25. We invite you to give at a level that makes sense for you. All members receive the same benefits. 
Bring HOPE! $25 (one-time gift)
Bring FUN! $60 (or $5/month)
Bring DELIGHT! $120 (or $10/month)
Bring JOY! $240 (or $20/month)
MEMBERSHIP BENEFITS
Access to exclusive member events: Launch Party, Member Night on Ice, & Wrap Party.  Meet the artists, connect with shanty enthusiasts, and get a behind-the-scenes look at the artmaking.
Member button! (pick it up at any of the member events, or at the Welcome Shanty at the festival)
A 10% discount on Art Shanty Projects merch at the festival
Recognition on the Art Shanty Projects website 
Recognition on the donor wall at the festival (if you give by December 31, 2023)
A chance to win prizes from local businesses
Keep your mittens on at the gate! (you don't have to wait in line)
*We think the biggest benefit of all is the warm feeling that you get from supporting an artist-driven festival on ice!
PUBLIC ART IS ESSENTIAL
We fearlessly do what we do to uplift art and joyful connection for our community of artists, neighbors, fans, and new friends (in the freaking coldest months). In return, a whopping 80% of Art Shanty Project's income & in-kind donations come from our community. We couldn't do it without this incredible show of kindness and reciprocity.
YOUR DONATION COUNTS!
We invite you to celebrate the human connections that are formed in creative community, in winter, in our beloved city, at Art Shanties. Our community event is community funded. Donations in any amount count! The radical generosity of many helps make it possible for all. 

Photo: Free Truth Media