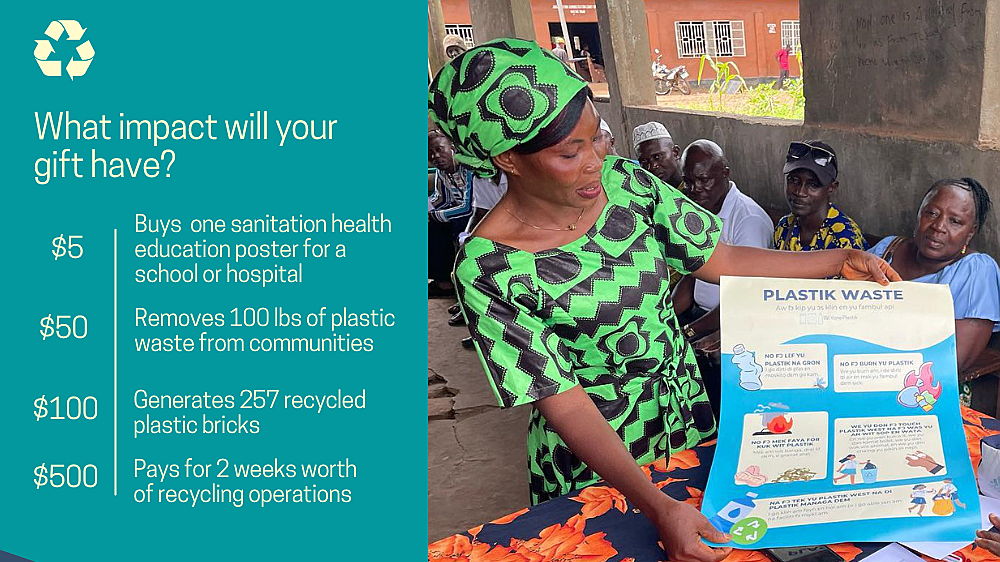 Support the empowerment of Sierra Leonean women to transform plastic waste into building materials!
$0
raised by 0 people
$100 goal
Thank you for visiting my fundraiser for Wi Yone Palstik this Giving Tuesday!
My lovely friend and fellow AmeriCorps Alumni, Phoebe Edalatpour, has launched a non-profit to address the issue of plastic disposal in the West African country of Sierra Leone by empowering local Sierra Leonean women to transform their relationship with plastic and repurpose waste into valuable building materials. By creating this program, members of the local chiefdoms can avoid the harmful affects of burning or simply tossing the plastic waste into the environment by creating a local plastic waste management system.
As a part of Giving Tuesday, you can help Phoebe and her team take the next steps BIG steps in their pilot! Since it's launch, 3,500 lbs of waste has been cleaned and collected. Your gift will fund the expansion of their work to two additional chiefdom while continuing the recycling operations. 
When considering who to support this Giving Tuesday, consider the small time non-profits in areas of most need where you can follow the impact from donation to implementation. Please support Wi Yone Plastik with any size contribution today!
Follow Wi Yone Plastik on Facebook @WiYonePasltik and Instagram @wiyoneplastik to keep track of the program's progress!