Give to the Max for Changing Gaits Inc. 2018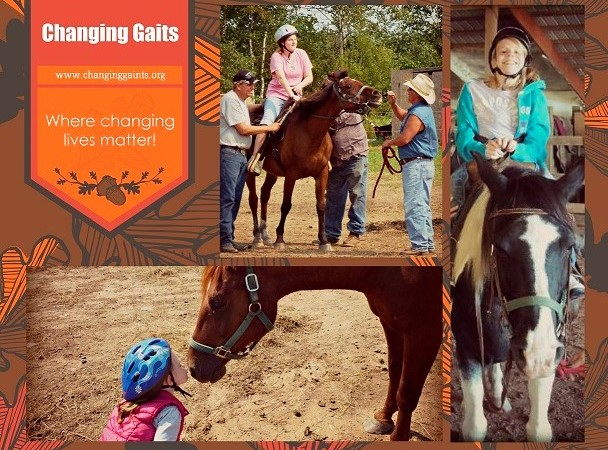 Changing Gaits, Inc. is a faith-based, nonprofit organization that uses licensed equine therapy.
$1,205
raised by 16 people
$16,000 goal
Changing Gaits (www.changinggaits.org) is a faith-based, nonprofit organization that uses equine therapy and its healing bond with horses to educate, mentor, and empower behavioral changes and enhance life skills for people of ALL ages with mental, physical, and emotional disabilities. Equine therapy does not only benefit people that have congenital developmental disabilities, but those that have suffered brain/spinal cord injuries and paralysis, to those that battle anxiety and depression, and even those that have incurred diagnoses of multiple sclerosis or Lyme disease ... and many more!
Horses are especially adept at being therapeutic partners. They can perceive minute changes in people through body language, tone of voice, and even biochemistry. They also have remarkable memories and can perceive emotions such as pain and fear. Due to all of their capabilities, horses are great therapy partners for people with physical and emotional problems.
People with physical disabilities receive many benefits from equine therapy as well. One reason for this is the gait of a horse moves the rider's body in a similar way to the human body's natural gait. This can help with problems such as tightness and weakness. Riding horses also helps improve balance and core strength. Sitting on a horse requires you to use your core muscles without even thinking about it!
Another benefit of working with horses is improved motor skills, which is especially helpful for people with injuries or developmental disabilities. Equine therapy improves both fine and gross motor skills. Fine motor skills are improved by using small muscle movements, which occurs by adjusting the reins or fastening buckles. Gross motor skills improve with the use of large muscles. Getting on and off the horse is just one example of using gross motor skills.
And for those who have difficulty interacting socially, equine therapy can improve social skills. Generally, when people receive equine therapy they have to interact with several people, including volunteers and the therapist. This creates a complex social environment that pushes people out of their boundaries. Of course, communication also occurs with the horse, which also helps improve social skills.
Our 80 acres of scenic woods and pastures also hosts a mens sober home, that offers faith-based drug/alcohol recovery and counseling, family therapy, Bible studies, step groups, and equine-assisted therapy.
Equine-assisted activities and therapies are very beneficial for so many different problems. Receiving this specialized kind of therapy can be a great way to begin recovering from an injury, life changing event, or disability of any kind. As if that's not enough, there are several other recreational activities that Changing Gaits provides to the community, such as, trail rides, birthday parties, volunteer opportunities, team building/leadership retreats, and youth group day camps!