What We're About...
In the spring of 2017 Transcend IT became an established 501(c)3 nonprofit. Transcend provides free technology skills training, focusing on underrepresented populations. The need for technology professionals is on the rise and we view this as an opportunity to bridge the gap in disparity. As technology evolves and use increases, so should the inclusion of people of color, women, and veterans in the Twin Cities.
The criteria for participants to join include basic adult skills, 20 hours a week to dedicate to studies and being between the ages of 18-64. No prior technology training is needed for Transcend IT's Service Desk training. Trainees who complete the program are qualified for any service/help desk job.
In our October's Newsletter, we highlight the first student Service Desk to use our training to find a job on his own. Check out Andy's story here Transcend IT's October Newsletter 2019.
Who is impacted...
Our influence in the community is gradual. With the help of a grant awarded by Make IT. MSP, The purpose of the forecast was to prove to the community and ourselves that this change would make a profound difference in the lives of the participants our program reached.
The data Ecotone collected yielded favorable results: for every $1 donated, the Social Return On Investment (SROI) is $6.58! Transcend IT's training not only helps the individual participants trajectory, this training experience also funnels back into society through increased income which leads to increased spending, increased economic activity, and finally, increased income for the second-generation.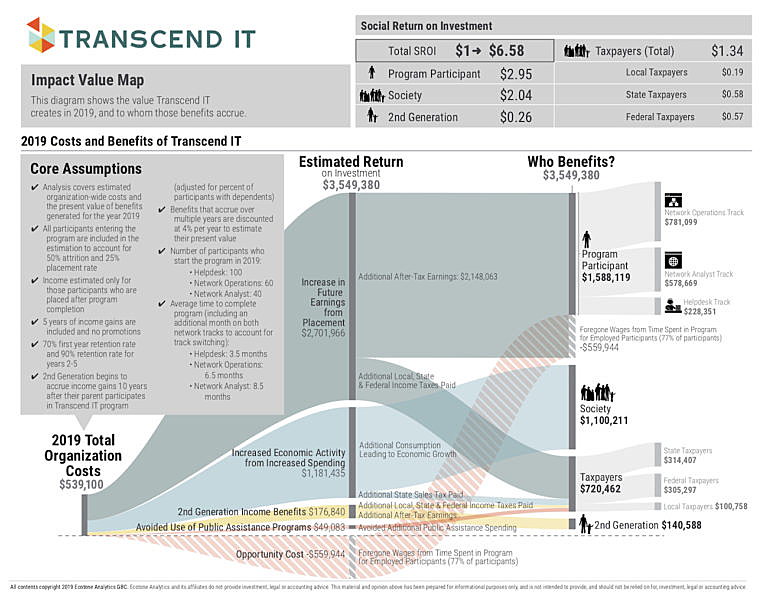 Make an Impact With Your Donation...
Ultimately, our goals are as follows: Give new opportunities to under
represented populations by training Veterans, women, and people of color at no cost; Add diversity to the tech field; Create stability for generations to come.
Donating to Transcend IT has an impact on the trainees in the program, taxpayers, and society. Donations also have an impact on improvements that aren't measured by money: confidence boosts, new independence for some and inclusion for all.
Click the DONATE button below to have an impact on inclusion and diversity in the technology field.
Editor's Note: Transcend IT's Board of Directors have agreed to match up to $1,300 this year!