"Unless someone like you cares a whole awful lot, nothing is going to get better. It's not." -Dr. Seuss
We provide free 24/7 comprehensive Sexual Assault Treatment Services to victims of all ages in St. Croix, Pierce, Polk, and Barron counties.


About US
St. Croix Valley Sexual Assault Response Team, Inc. (SART) works toward a shared vision of a society without sexual violence. Our program is both proactive—providing education to schools and speaking to groups on sexual violence issues, and reactive—promoting healing, empowerment and restoration in our crisis response services.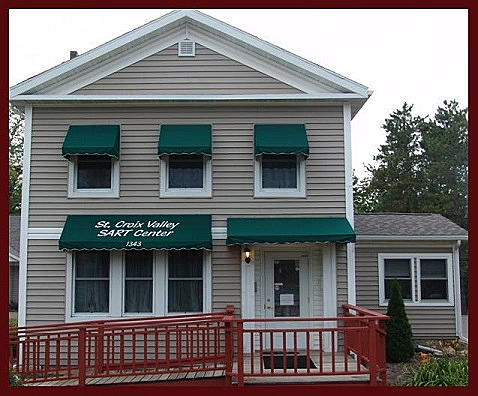 Our victim services include:
24-hour Crisis Call Line
24-hour Advocate Services
24-hour Comprehensive Sexual Assault Treatment Services

Sexual Assault Nurse Examination (SANE) Program
After-Care Resources

Open for all individuals regardless of age, race, religiousness beliefs, sexual orientation and gender identity
Our survivors include adult, adolescent and children who have been affected by violence, including sexual assault, interpersonal violence, strangulation, and human trafficking receive FREE care from our organization.
With the growing awareness of the epidemic of violence and understanding of available services, our organization since its creation 18 years ago has seen an increase in the number of victims seeking services; an increase in calls from parents see as well as local and neighboring community healthcare providers seeking assistance regarding medical options when learning of disclosures of sexual assault.
Forensic Nurse Services
Our experienced Forensic RN's are trained to help victims of sexual assault and interpersonal violence, physically and emotionally. The SART Nurse can examine you for the possibility of injuries, talk to you about any concerns regarding pregnancy or sexually transmitted infections, and collect evidence if you choose. Services to provide but not limited include: immediate medical assessments and treatments, information and services for pregnancy and sexually transmitted infections, gathering of evidence to evaluate for drug facilitated sexual assaults, medical/legal evidence collection and evaluation.
Advocacy Services
The Advocacy Coordinator is available to help with after-care options. Many are emotionally affected by the assault and need guidance and support. Our Volunteer Response Advocates are trained community members who volunteer to provide advocacy, support, crisis counseling, information and referrals to those who have experienced victimization through our 24/7 helpline. Our VRA's also provide, but not limited to; advocacy, accompaniment during the sexual assault exam and to law enforcement, acute crisis counseling, referrals for professional counseling and therapy, medical advocacy follow up, assistance with out-of-pocket costs via crime victim compensation and provide resources on Title IX for college students.
School Education Services
The St. Croix Valley Sexual Assault Response Team, SART, is committed to ending sexual violence and educating schools and groups alike toward that end. Our goal is to spread the word about issues of sexual assault today and what we can do together through education and increased resources to stop sexual assault. Schools that we have been presenting at have integrated our presentations into their health curriculum throughout the school year. Our free Education program is for middle school through high school and into college levels. Our Education Program teaches students and community members how to respond to and help prevent sexual violence.


Seeking Donations
Please consider supporting our organization by making a monetary donation today. Your financial support guarantees that we will continue our efforts toward a future free of violence.
St. Croix Valley SART always appreciates your donations and support. SART is funded primarily on donations and grants. Financial support provides continued care for victims of sexual assault and interpersonal violence by way of forensic medical exams, evidence collection, advocacy, legal accompaniment, proactive educational presentations, and professional presentations. On average, services provided per client incur minimal costs to our
Forensic Nurse Team and Executive Director Mike organization of $500.00.