Our Mission: To provide a safe, peaceful place for people and horses to experience kindness, hope and healing through equine assisted activities, as well as just relaxing at the stable.
Located in St. Augusta, Minnesota, Angel Reins Stable is home to 13 horses, 10 of which are rescues. We offer programs at no charge to veterans, survivors of human trafficking, and others suffering from post-traumatic stress disorder(PTSD), depression, anxiety, and more. This year we are focusing on purchasing land next door. The 10 acres will be the foundation for a stable that will be complete with an indoor arena for year-round operations, and office spaces so we can better serve our horses and humans alike. As an emerging 501(c)(3), we have 25% of the land purchased. Your donations will directly impact the acquiring of this land.
The best way to portray what we do is through the stories of the people and horses that have found hope and healing at Angel Reins Stable.
Sunny was the first rescue to join the herd 16 years ago. Since then, nine more horses have come home. All rescued from situations they didn't deserve. They arrived afraid, hurting, and hesitant of their future. Today, all of our horses are happy, healing and healthy.
Cowboy came from the Bastrop, Louisiana Kill Lot. This beautiful buckskin has captured the hearts of many healing and hurting souls. Once broken, Cowboy has now become part of our welcoming committee with his goofy antics and positive light.
Like Cowboy, pretty little Hope with one white leg, came to us from the Lone Star Kill Pen in Texas. She was an hour away from being loaded into a slaughter truck. She and a survivor of Human Trafficking have built a very special friendship shared below:
August 2020 The Story of Hope's Healing
"When I first came to know about Angel Reins and the horses, I was in a residential safehouse for survivors of human trafficking. I had just gotten back from out of the country and hadn't had a place to call home for years. Being a survivor wasn't even something that ever crossed my mind, and I was broken and hopeless. I felt like much more of a victim during those dark days, and it wasn't until I was given the chance to go to Angel R horse therapy program that I was able to heal and see myself empowered as a survivor of human trafficking.
PTSD is a very common struggle for anyone who has gone through trauma, abuse, or neglect. For me, I have been dealing with lifelong psychosis and depression, so, when I first got back into the states I was immediately thrown into a whole new aspect of mental illness that only serves to escalate my other myriad illnesses. People are not the only ones who develop mental illnesses in the face of trauma, abuse, or neglect. I met a horse who was dealing with many of the same issues I, myself, was going through.
Every time I would go out to have a therapy session, the two of us became best buddies. We both were coming out of some the hardest situations of our lives; we were broken, hopeless, and desperately in need of companionship. So we leaned on each other for support, and every time I visit Angel Reins we reunite and remind each other of our healing, our strength, and our journey.
The name of my horse companion is, in the most perfect and ironic of ways, Hope. I found Hope at Angel Reins and hope is what has given me the strength to continue my healing journey every day. The journey will always have its ups and downs, but it is a healing and a hopeful one. I will always hold Angel Reins, Kathy, and her horse therapy program close to my heart, because it gave me the hope I needed to live another day and see the sunrise, give horses hugs, pick fistfuls of wildflowers, and sing to the stars and the moon." B.L., Survivor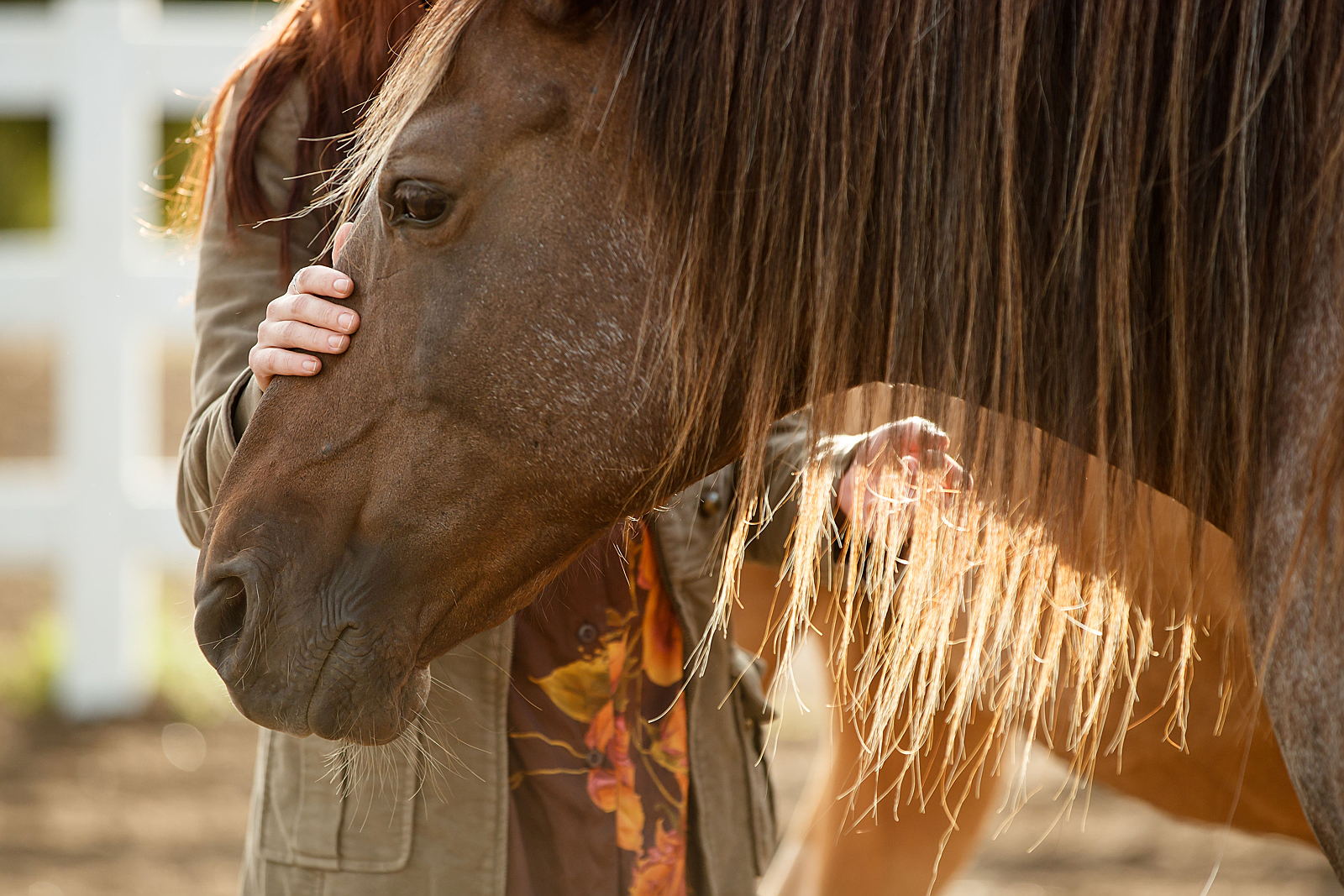 Hope continues to live up to her name. She has befriended a Veteran who spent 15 years in the United States Penitentiary. Prior to meeting Hope, Mike was uncertain of his future, walking through life lost and lonely. To thank Hope for her kindness, Mike wrote a letter to his four-legged friend:
"I feel like I have a lot of love inside of me, but that I don't really know how to show it or give it or receive it. I like people, but I mostly don't feel comfortable with being around them. When I met you though, I felt instantly like you understood this too...that maybe you are a soul who trusted too much, too often and maybe gave all of yourself only to be hurt and abused. I don't know your story, yet, but I think maybe I do... At least we have this moment together...to just live and love." Mike, Veteran
Mike continues to visit Hope weekly. Together they ride like the wind. Together they heal.
On behalf of our team, our horses, and the people we work with:
Thank you for your generosity and friendship to Angel Reins Stable. You are the wind beneath our wings.
"Angel Reins leaves me speechless. The horses are gentle. If there is a door for Grace, it is this place."
KW, Survivor of Human Trafficking.